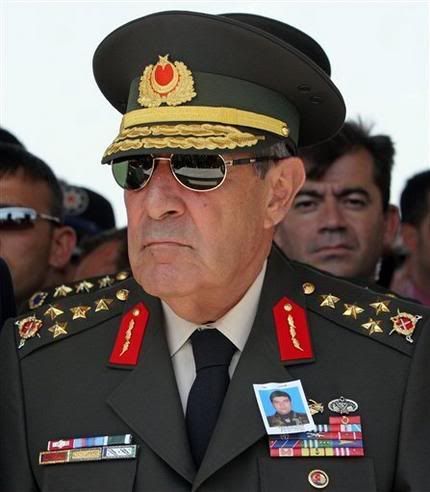 Erdogan and Turkish Media Point to "Deep State" Following Dink's Murder
But Turkey's Government is in No Rush to Liberalize Laws in an Election Year
By Emil Sanamyan (Special to the Armenian Reporter)
WASHINGTON, DC – Turkish Prime Minister Erdogan acknowledged that Turkey has not done enough to crack down on what is known as a "deep state" – a reference to an ultra-nationalist mafia encompassing elements of Turkey's government bureaucracy, security forces, and criminal world – believed to be behind much of the past violence in the country.
But as xenophobic outbursts followed the outpouring of sympathy over Hrant Dink's murder, and in an apparent nod to nationalists, Turkish officials said they were not ready to repeal provisions that criminalize "insulting Turkishness" and that had led to the targeting of Dink and other dissidents.
Investigation Points to Conspiracy
It has also emerged that Turkish police were aware of an ultra-nationalists' plot to kill Hrant Dink, but apparently took no action.
The daily Sabah produced a letter sent to police intelligence headquarters in Ankara and to the Istanbul police in February of 2006, which cited a police informant, Erhan Tuncel, reporting that "Yasin Hayal will shoot Hrant Dink."
Both Hayal and Tuncel are under arrest as part of the police investigation into Dink's murder. Hayal has confessed that he supplied the suspected teenage assassin Ogun Samast with money and the weapon used in the murder.
Turkish newspapers had previously described Tuncel as directing Hayal and reported that he was charged with "instigating the killing." Sabah published a photo linking Tuncel to Muhsin Yazicioglu and his ultra-nationalist Grand Unity Party (BBP). Yazicioglu has denied any role in the murder.
Tuncel, however, is unlikely to have been both the main organizer and an informant who told police about the conspiracy to kill Dink. And senior Turkish officials appear to share the public perception of a larger conspiracy that led to the assassination.
The Turkish Daily News cited Deputy Prime Minister Mehmet Ali Sahin, who represented the government at Dink's funeral, as telling Samanyolu TV that police needed to find the real organizers of the murder. "Those arrested boys are straw men to me," Sahin said.
The Turkish government also dismissed Trabzon's governor and police chief. Police officials would not comment on Sabah's allegations. Hayal, Tuncel and Samast are residents of Trabzon, in Turkey's northeast, where another teenager murdered a Catholic priest in February of last year.
Azerbaijan Connection
The Turkish news portal Haber3.com and the Radikal newspaper cited Orhan Dink as saying that his brother was particularly worried about threats from retired General Veli Kucuk, since the latter was previously with the controversial "Intelligence and Counter-Terror Unit" (JITEM) of the Turkish Gendarmerie (internal security forces).
For over a decade, JITEM was in many ways a modern-day iteration of Teskilat-i Mahsusa (Special Organization) that carried out Armenian massacres on behalf of the Ottoman government. JITEM was linked to death squads that targeted Kurdish resistance in Turkey and their perceived political allies inside and outside the country.
The Kurdish Firat news agency published pictures of an Azerbaijani nationalists' get-together in Sweden in 2005, where Kucuk was seen with other Turkish ultra-nationalists, such as Kamal Kerincsiz who repeatedly filed legal claims against Dink and other Turkish dissidents. Both Kerincsiz and Kucuk denied any role in the murder.
The same news agency cites a nephew of Azerbaijan's former Deputy Interior Minister Siyavush Mustafayev, who claimed in 2001 that Kucuk, in cooperation with Azerbaijan, established a "murder network against Armenians." Hayal, one of the main suspects so far, was also reported to have been trained in explosives at a camp in Azerbaijan.
'Deep State' Backlash
As he was charged on January 24, Hayal issued a brazen public threat against writer Orhan Pamuk, who like Dink and others was prosecuted for raising the Armenian Genocide issue.
Just a day after Dink's funeral, the Agos newspaper office received a bomb threat from the "Turkish Revenge Brigade." The same group threatened to bomb the Turkish parliament building in Ankara unless suspects in Dink's case are released and, according to the Paris-based Reporters Without Borders (RSF), ordered the 1998 murder of Akin Birdal, Turkey's then leading human rights activist.
In Gelibolu, just south of Istanbul, a 36-year-old ex-soldier took passengers of a ferryboat hostage in protest of pro-Armenian sentiments broadcast following Dink's murder. In Samsun, where the suspected assassin was arrested, a Turkish protestant church was stoned.
And at a soccer match in Trabzon, where plans to kill Dink were allegedly hatched, fans held some 3,000 banners with nationalist slogans and chanted in support of the local police chief sacked by the government following the murder.
The General Staff Chief of the politically powerful armed forces, Gen. Yasar Buyukanit, complained that foreign diplomats accredited in Turkey attended Dink's funeral, Zaman daily reported. Buyukanit, who issued a statement condemning Dink's murder, was reportedly unhappy in what he sees as foreign 'indifference' to deaths of Turkish military personnel fighting Kurdish insurgency.
No Plans to Repeal 301
Speaking on January 28, Prime Minister Recep Tayyip Erdogan said that the government will not propose to repeal Article 301 of the Turkish criminal code, Turkey's NTV reported.
Article 301, along with other articles of the code, limit freedom of expression and have led to the repeated prosecution of Dink, Pamuk, and dozens of other Turkish intellectuals who question the government's policy on the Armenian Genocide and other "sensitive" issues. The European Union and human rights organizations have long called for the provisions to be dropped.
Erdogan suggested that the controversial provisions could be revised and offered that Turkey's civic groups jointly propose amendments.
The Turkish Daily News reported that the Ankara Bar Association has called for a meeting of NGO's to discuss such proposals. The Association's President Ozdemir Ozakman cautioned that NGO's had failed to develop a consensus over the issue in the past. Ozakman told the newspaper that "[The government] is passing the ball …. This is the political responsibility of government. And we will send the ball back."
And no amendments are likely any time soon, as Erdogan is expected to try to replace President Ahmet Necdet Sezer, whose term will be up in May. In November, Turkey will hold General Elections for Parliament, in which all parties are courting nationalist voters.
(First published in February 3, 2007 Armenian Reporter)