Published on March 24, 2007 in the Armenian Reporter.
A Look at the Azerbaijani Military: A dangerous shopping spree
by Emil Sanamyan
EDITOR'S NOTE: This is the Reporter's third article on developments in the Azerbaijan's military. The first (in the Feb. 14 edition) focused on Azerbaijan's growing oil production and military spending; the second (Mar. 3) discussed the persistent readiness problems in Azerbaijan's armed forces. Future articles will focus on the current configuration of these forces, and the impact of foreign security assistance.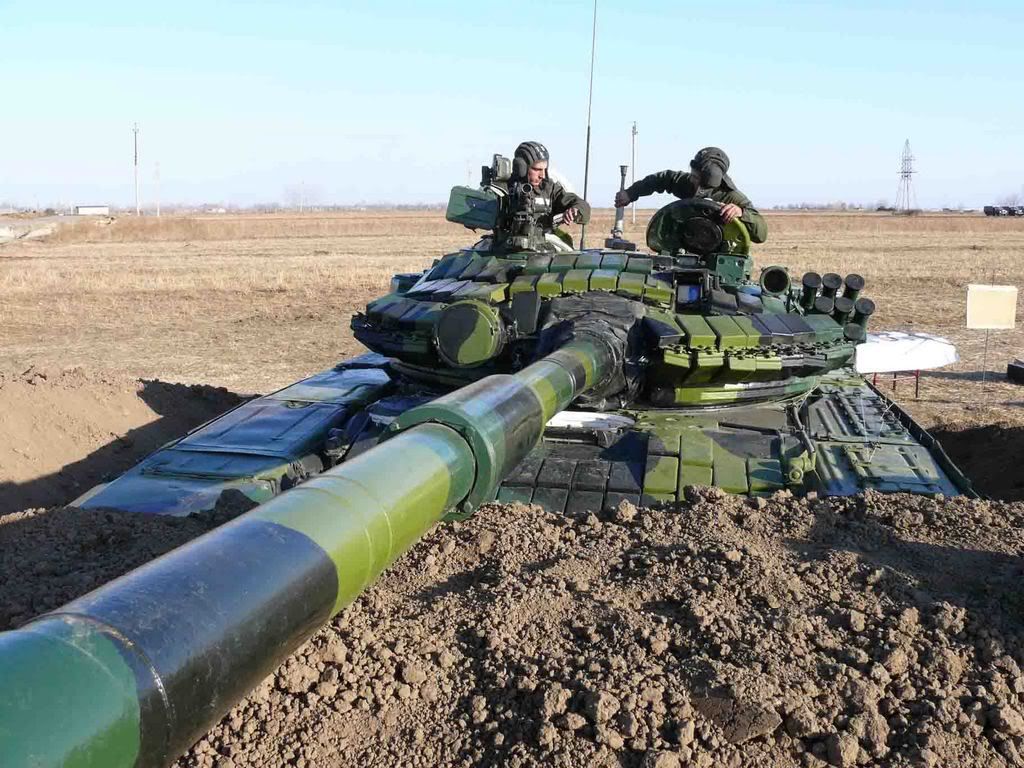 WASHINGTON – Buoyed by oil revenue, Azerbaijan is spending an increasing amount of money on large-scale weapons purchases. While its military budget is expected to surpass $1 billion this year, Azerbaijan has traditionally made major arms acquisitions from non-budget accounts.
In recent years, such acquisitions have included combat aircraft, rocket artillery, and main battle tanks.
The expressed purpose of this build-up is to outmatch the combined military force of Armenia and Nagorno-Karabakh, which so far continue to enjoy superiority both in readiness and quality of military equipment.
* Soviet heritage
As the Soviet Union collapsed in late 1991 and the Karabakh conflict escalated into a full-blown war, both Armenians and Azeris began to acquire heavy military equipment mostly from Soviet forces deployed in the region.
Since there was much more such equipment based in Azerbaijan, that country was able to gain control, through formal transfers and by bribing Soviet officers, of twice as much heavy ground equipment (such as tanks, armored vehicles, and artillery pieces) and more than 25 times as many combat jets, as did Armenia. Azerbaijan also received part of the Baku-based Caspian fleet, removing some of its heavy artillery to be used during the war.
According to an official mandatory filing made by Azerbaijan's Foreign Ministry on November 6, 1993 to international organizations, Azerbaijan formally received from Russia 286 tanks, 947 armored vehicles, 388 large-caliber artillery pieces, 53 combat jets and 8 combat helicopters.
(By comparison, during the war [1992-94], Armenia received only two combat jets from Russia. One was misidentified and shot down by Karabakh Armenian forces. But an additional jet was gained when an Azeri air force pilot defected to the Armenian side.)
More equipment and much more ammunition were acquired by bribing former Soviet army officers serving at the time in Azerbaijan. And, according to Armenian sources, while the war was ongoing additional large-scale purchases of equipment were made abroad, giving Azerbaijan a theoretically significant edge in war-fighting ability.
But due to mismanagement and Armenian military successes, Azerbaijan lost nearly 200 tanks and at least 10 combat jets. Karabakh Armenians captured and subsequently repaired at least several dozen of the tanks.
* Post-war re-armament
Following the May 1994 cease-fire and conclusion of a Russia-Armenia military treaty, Armenia was able to convince the Russian leadership to make up for the initial disparity in weapons supplies.
Starting in the mid-1990s, Armenia received or purchased from Russia significant amounts of heavy ground equipment and associated upgrades. Russia also deployed modern MiG-29 jets and S-300 missiles at its military base in Armenia, giving Armenians some protection from Turkey's significantly superior military capability.
Although Turkey has been Azerbaijan's closest political ally, it is the former Soviet republics, particularly the Ukraine, which have been the main source for weapons, parts, and associated training for the Azeri military.
Last month, Ukrainian media confirmed earlier reports from Armenian officials that Azerbaijan is in the process of acquiring 14 MiG-29 aircraft from the Ukraine. This is a relatively modern Soviet-made air superiority fighter jet, which first entered service in the 1980s. Its primary purpose is to shoot down other planes, but it also has limited precision-bombing capability.
While the purchase price has not been made public, based on the past MiG-29 sales and associated upgrade and training needs, the cost of the transaction is likely to be anywhere from $200 million to over $300 million, making it the most expensive single acquisition for Azerbaijan to date.
In the past several years, Azerbaijan also reported purchasing half a dozen Su-25 fighter jets from Georgia, and hundreds of tanks, mostly from the Ukraine but also from Belarus, as well as artillery pieces including modern multiple-rocket launchers from the Ukraine.
* Current balance
Karabakh's Army is not under international obligation to report on its holdings, and the Azeris are believed to be hiding much of their equipment to avoid accusations of violating the Conventional Forces in Europe Treaty. In terms of ground-based weapons, Azerbaijan and the combined forces of Armenia and Nagorno-Karabakh are believed to be about evenly matched. Total numbers disguise, however, the fact that Armenian equipment, with some exceptions, is more modern, better upgraded, and better maintained.
At the same time, Azerbaijan's increasing oil revenue is giving it an opportunity to continue expanding its military build-up, thereby maintaining its superiority in the air and giving it a better and longer-range firepower capability that, together, may theoretically give its leaders enough confidence to launch a new military campaign.
As Armenia's Defense Minister Serge Sargsian told Defense News last month, with more modest financial means Armenia is focusing on less expensive weapons to counter the build-up: better air defense to counter the aircraft, and anti-armor systems to counter tanks.
But the huge amount of equipment and some military-industrial capacity inherited from the Soviet Union by countries like the Ukraine, and associated economic pressures to sell as much of it as possible, means that Azerbaijan's thirst for weapons will be met for years to come.
International mediators dealing with the conflict have so far failed to put in place an effective mechanism that could hinder the ongoing arms race. In fact, since 2001 the United States has lifted its arms embargo on Azerbaijan, following the waiver of Section 907 that banned U.S. military assistance to Azerbaijan. Moreover, as part of its policy to contain Iran, the U.S. is continuing a $100-plus million program to improve Azerbaijan's military capability.