First published in the Armenian Reporter on April 21, 2007
From Washington, In Brief
By Emil Sanamyan

Bush, Fried stress importance of elections in Armenia
President Bush sent a message of congratulations to Armenia's newly-appointed Prime Minister Serge Sargsian. The message also noted that U.S. "expects" Sargsian to "make a great contribution to holding a free and fair election in accordance to international standards, which will serve as a serious stimulus for developing relations between the two countries," PanArmenian.net reported on April 17.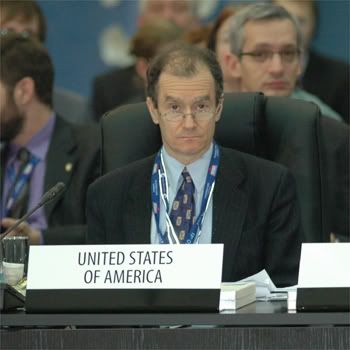 At a roundtable discussion with journalists from the former Soviet republics held on April 11, Assistant Secretary of State Dan Fried said in reference to the May 12 parliamentary election that U.S. does not "expect perfection. We don't expect to go from deeply flawed to perfect, but we do expect to see substantial forward progress."
In a comment sure to spark Armenia's competitive streak, Fried told an Armenian journalist: "Given the strength of the Armenian Diaspora and given Armenia's links to the West, frankly, you ought to be way ahead of Georgia. But I ask you, are you in terms of democratic reforms?" (Answering a later question, Fried did acknowledge "shortcomings" in Georgia as well.)
Fried added: "Armenia should be doing better. It should be a leader. It should be a prospering country. It has all the ingredients. And lack of oil and gas is not necessarily a curse."
U.S. renews warning to Azerbaijan over Karabakh…
Addressing the on again off again Azerbaijani threats to go to war against Armenians, Fried noted that "it is important to try to find a peaceful settlement. War will destroy everything Azerbaijan is trying to do… Azerbaijan has every opportunity, like Armenia, although the economies are very different, to have a very good 21st Century."
Almost a year ago, during a similar roundtable discussion on April 4, 2006, Fried told an Azerbaijani journalist in attendance: "Your country's going to have a lot of money coming in from oil and gas, but only if there is peace. If there is war, there is no more money. All right? Just look at the map. You know what I'm talking about. You're well set up for peace. Of course, the oil and gas money won't do you any good unless it's well spent, but that's a different issue."
…and argues for Kosovo independence
While U.S. officials continue to stress a "unique" nature of the Kosovo and other conflicts, the former Serbian province's likely independence would still set an important precedent. U.S. and its allies are determined to recognize the independence of a breakaway region (Kosovo) despite opposition from its former ruler (Serbia) and an important international player (Russia).
In a prepared testimony for April 17 hearing in the House Foreign Affairs Committee, Undersecretary of State for Political Affairs Nick Burns stressed that "supervised independence for Kosovo is now the only way forward." He added "We need to act now. We cannot afford to wait any longer. Until there is clarity, Kosovo's undefined status will be a source of increasing tension and instability."
After a "period of international tutelage for a limited number of years" Kosovo will formally declare independence. U.S. and other Western allies will then move to recognize this independence even if Serbia and Russia continue to oppose it.
The House Committee, including its Chairman Tom Lantos, spoke overwhelmingly in support of Kosovo's independence. Just two Committee members, Reps. Dan Burton (R-Ind.) and Diane Watson (D-Calif.) expressed opposition.
"Kosovo has been a part of Serbia for a long-long time," said Rep. Burton, who has also been a big booster for Turkey, Azerbaijan and the former Zaire dictator Mobutu Sese Seko. "Externally imposed solution won't work." He warned that independence would lead to "bloodshed."
Rep. Watson also worried that recognition of Kosovo's independence would set a precedent for more conflicts and asked why U.S. would not support independence for Somaliland, Taiwan or Kurdistan "from either Iraq or Turkey."
Turkish-Kurdish tensions heat up
Chairman of the Turkish General Staff, Gen. Yasar Buyukanit told reporters in no uncertain terms that he wants his army to go into Iraq "for a military operation" against Turkish Kurdish (PKK) rebels there, and the reason it has not yet done so is because "a governmental decision is required for that," Turkey's "semi-official" Anadolu news agency reported on April 12.
The reason this decision has not been made is because of U.S. opposition, which says that the rebel threat should be dealt with "in a cooperative way, in a joint way, rather than [through] unilateral actions," argued the State Department spokesman Sean McCormack the same day.
Turkey claims that the recently increased tempo of operations against its forces in Turkish Kurdistan and occasional terrorist attacks against civilian targets inside Turkey are coordinated from northern Iraq. This view has been questioned, however, including by British journalist James Brandon, who is one of the few Westerners to visits the PKK camps in northern Iraq.
Speaking at the Jamestown Foundation on March 29, Brandon described the primitive condition and remote location of the camps which make any real coordination difficult if not impossible. He also argued that it would be in Turkey's interest to make peace with secular PKK, whose leaders have stepped back from demands for independence.
Turkey's real concern appears to be not with any activity generating imminent terrorist threats but the rise of a de-facto Kurdish state on its border with Iraq. In fact, the most recent Turkish saber-rattling came following the statement by the Iraqi Kurdish leader Mas'ud Barzani who told Al Arabiya TV that if Turkey continues its cross-border interference, Iraqi Kurds would respond by interfering inside Turkey. Fried called Barzani's words "extremely unhelpful and unwise."
Lobbying against Genocide resolution continues
Turkey's Kurdish concerns dominated the April 17 event with senior Turkish Parliament members hosted by the Hudson Institute and moderated by its Zeyno Baran. At the same time, the MPs from both the governing and opposition parties stressed their displeasure with the House resolution on the Armenian Genocide (H. Res. 106), currently backed by 189 Congressmen.
In a quick interview with the Reporter, MP Erol Aslan Cebeci from the Justice and Development Party (AKP) likened the impact of the potential passage of the non-binding measure to Pearl Harbor, JFK assassination and 9/11 attacks. "Even people herding sheep in the mountains in Turkey, they will remember when this resolution will pass," he claimed.
During the presentation, Cebeci warned that "Turks are an emotional group of people when it comes to these issues" and with resolutions continuing to pass through Congress and other parliaments, "believe me in my life time we will not see [Armenian-Turkish] normalization."
Cebeci also argued that "Turks and the Turkish republic have come a long way on [the Genocide] issue in the last 10 to 15 years." Back then, Cebeci said, the Turkish government would just say that "nobody died." He went on: "Now you can hear that, yes, there were atrocities committed, yes there were massacres, but it was not one-way… That we regret this… But I don't think there will ever be a point when the Turkish public will say that yes there was a genocide."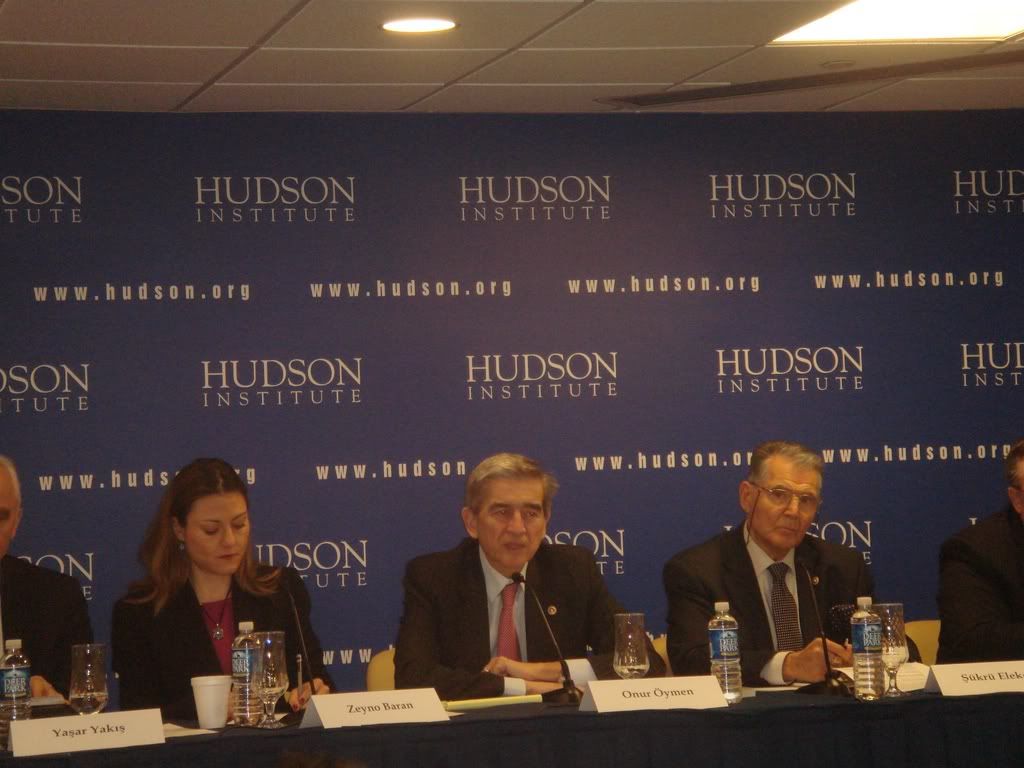 MPs from the opposition Republican People's Party, former Ambassadors to NATO and U.S. respectively, Onur Oymen and Sukru Elekdag suggested that U.S. Congress had no "jurisdiction" over the Genocide issue. Moreover, Oymen waived a copy of a book by denier Justin McCarthy and claimed that "580,000 Turks were killed by Armenians" (this is down from past claims of "two million" Turks killed).
The delegation also included the Parliament's Foreign Affairs Committee Chair Mehmet Dulger, former Foreign Minister Yasar Yakis and MP Zekeriya Akcam, all from AKP.
Prominent Democratic Senators endorse Genocide resolution
Senate majority leader Harry Reid (D-Nev.) and a top contender for the Democratic presidential nomination Sen. Hillary Clinton (D-N.Y.) have agreed to co-sponsor the Senate Genocide resolution (S. Res. 106), the Armenian National Committee of America (ANCA) reported on April 18.
During a Washington "breakfast briefing" held by Senators Dick Durbin (D.-Ill.) and Barack Obama (D.-Ill.) with Illinois residents on April 12, Sen. Obama was asked whether he planned to co-sponsor S. Res. 106 introduced last month by none other than Sen. Durbin.
In response to a question from the ANCA's Karine Birazian, Sen. Obama said: "For those who aren't aware, there was a genocide that did take place against the Armenian people. It is one of these situations where we have seen a constant denial on the part of the Turkish government and others that this occurred. It has become a sore spot diplomatically. I have to check with my staff to find out what has gone on in our office that has resulted in us not signing on to [S. Res. 106]."
The Senate measure currently has 29 supporters.
In a statement last September, Sen. Obama said: "the Bush Administration's policy concerning the Armenian Genocide is wrong and is untenable." He nevertheless voted to approve the nomination of Ambassador Richard Hoagland, arguing that "it is in the best interest of the U.S.-Armenia relationship to have an effective U.S. ambassador in place."