First published in July 14, 2007 Armenian Reporter.
Rep. Tierney discusses Iran concerns with Azeri officials
Clarifies his position on the Karabakh conflict
by Emil Sanamyan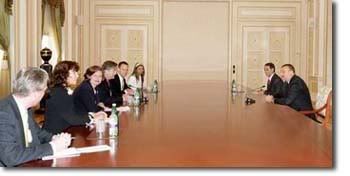 YEREVAN – Congressman John Tierney (D-Mass), member of the Select Committee on Intelligence, was last week in Baku where he met senior Azerbaijani officials on July 3.
Although Azerbaijan's state news agency AzerTag reported the next day that talks focused on bilateral relations, Rep. Tierney told the Armenian Reporter in a telephone interview on July 13 that the focus was really Iran.
Azertag also reported that "considering the activities of the Armenian community in the United States, [Rep. Tierney] stressed the importance of the comprehensive information he received about [Azerbaijan] and the Armenian-Azerbaijani, Nagorno Karabakh conflict during his meetings."
Asked to comment if the description was accurate, Rep. Tierney said that he "assume[s] that the [Azeri officials] are putting the best face on what they wanted to talk about and that is to be expected."
"They were quite aware that I am a member of the Armenian Caucus [in Congress], so I did not want them to think that I was going there surreptitiously... I also told them that I was married to an Armenian, so [the Karabakh issue] feels closer to home.
Discussing his position on the conflict, Rep. Tierney made it clear that he and other Caucus members "oppose the blockade, oppose violence, oppose any renewed aggression, and want the will of the people of Nagorno Karabakh to be respected."
Rep. Tierney confirmed that the trip was part of his work on the intelligence committee. "The concern that we have is that [the Caucasus countries] work with us cooperatively in the understanding that Iran poses a potential threat to all of them… whether through international terrorism or otherwise."
Rep. Tierney added that in Azerbaijan one of the topics "discussed [was] the large Azeri population in Iran and how that situation can go both ways. To some extent this could be a force that could moderate things going into Iran, because they have a concern that those folks not turn against Iran and become a problem. On the other hand it makes things difficult, because it facilitates infiltration from Iran, intelligence and other people, into Azerbaijan."