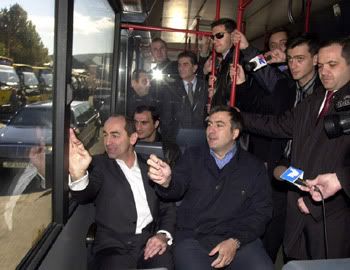 Georgia – Between Azerbaijan and Turkey: What Can Armenia Offer? (Part 2 of 2)
By Emil Sanamyan (Special to the Armenian Reporter)
WASHINGTON, DC – Following Georgia's decision in late December to buy Russian gas at $235 per thousand cubic meters (tcm), twice the price Georgia paid last year, local media and pundits discussed the possibility of increasing the tariff on Russian gas supplies to Armenia.
In other words, Georgia would look to Armenia to subsidize, at least in part, the Russian price hike. Armenia will be paying $110/tcm of Russian gas through the end of 2008. In exchange Russia increased its control over Armenia's gas transportation infrastructure.
Cory Welt, the deputy director for Eurasia at the Washington-based Center for Strategic and International Studies (CSIS), who watches Georgian politics closely, told the Armenian Reporter in December that he "doesn't see how Georgians would allow the $110 gas to go to Armenia, while they are paying $235…. This will pose a large problem for Armenia."
Earlier this month, political commentator Soso Tsintsadze told the Georgian newspaper Sakartvelos Respublika that such a move was being considered by the Georgian government. Currently, Georgia receives 100,000 tcm as a tariff for Russian gas supplies to Armenia (equivalent to $23.5 million at the new price.)
But chairman of the Georgian Parliament's committee on economic policy Niko Lekishvili ruled out such a step, reported Georgia's Messenger daily on January 8. Lekishvili said that Georgia does not want to hurt its relations with Armenia.
Higher tariffs for Armenia are just some and perhaps not the worst of the potential consequences of the Russian price hike against Georgia.
The Georgia-Turkey-Azerbaijan Connection
Enter Azerbaijan and Turkey, which have offered Georgia gas supplies at significantly lower prices than Russia is now asking. If Russia conditions lower prices for its gas supplies to control of the countries' strategic assets and Russia-friendly policies, should not Azerbaijan and Turkey be expected to do the same?
CSIS' Welt called the recent preliminary agreements between Azerbaijan, Georgia and Turkey on gas supplies a "step towards consolidation of the Georgian-Azerbaijani partnership … leaving Armenia on the other side."
Since questions remain on how much gas Azerbaijan can in fact produce for itself and for export, Georgia is both driving a hard bargain on Azerbaijan-initiated projects and biding its time. But the partnership is already beginning to bear fruit for Azerbaijan.
On January 13, transport officials from Azerbaijan, Georgia and Turkey met in Tbilisi and agreed to go ahead with construction of the Tbilisi-Akhalkalaki-Kars railroad that Azerbaijan initiated to, as the Azeri president put it, make Armenia's future "even bleaker."
As part of the deal, Azerbaijan agreed to provide a virtually interest-free (1 percent APR for 25 years) $220 million loan to Georgia for the rehabilitation and construction of the Georgian stretch of the railroad. (Georgia's Minister of Economic Development Georgi Arveladze, however, put the estimate for the Georgia section at $300 million.)
The construction of the 160-mile line is expected to begin by September of this year and to be completed by 2010, with an estimated total cost of $600 million.
On February 7, Azerbaijani President Ilham Aliyev and Turkey's Prime Minister Recep Tayyib Erdogan were in the Georgian capital for the inauguration of its airport's new terminal. The terminal is constructed by a Turkish company that has 15-year management rights for the airport in Tbilisi, as well as the one in Batumi, in Georgia's Black Sea province of Ajaria.
Azerbaijani officials have previously expressed interest in buying up key infrastructure in Georgia's Black Sea ports of Poti and Batumi, both heavily relied upon by Armenia.
These are just some examples of Turkish and Azerbaijani real and potential economic expansion into Georgia, which will have consequences for Armenia.
In addition to economics, there is the on-again, off-again issue of the resettlement of Meskhetian Turks displaced from Central Asia into the Armenian-populated Javakhk region, and the frequent discrimination faced by ethnic Armenian citizens of Georgia.
In several official statements in recent months, Georgia has explicitly endorsed Azerbaijan's claims on Karabakh, and the two countries cooperated on having this view endorsed at the United Nations' General Assembly.
There is also military cooperation between Georgia and Turkey and, to a lesser extent, Azerbaijan. Turkey has paid for the renovation of Georgia's main airforce base outside the ethnically Azeri-populated town of Marneuli, along with some of Georgia's other military programs. Georgia has in turn sold fighter jets to Azerbaijan.
Opportunities for Armenia
What opportunities does Armenia have for positive engagement with Georgia to deter future problems?
"Changes in gas supply patterns are a short-term issue," says Arthur Martirosyan, Program Manager at the Cambridge, Massachusetts-based Civil Society and Conflict Management Group of the Mercy Corps.
"Long-term, both Armenia and Georgia are pursuing European integration and this process creates important leverages for Armenia; both countries are also members of the World Trade Organization (WTO)."
"For now, Georgia is not taking any practical anti-Armenian steps," Martirosyan notes. "But Armenia could potentially engage WTO, European or even American venues to moderate any such steps that Georgia may be pushed to undertake."
More locally, while Russia appears to have taken control of future Iranian gas supplies to Armenia, there must be a way for Armenia to be able to offer Georgia an alternative source of gas that would come through Armenia rather than from or through Azerbaijan.
There is certainly a need for a stronger Armenian economic presence in Georgia. This means Armenian – including diaspora Armenian – investments in Georgia. So far, the Cascade Bank and Grand Tobacco are the only Armenian companies known to have invested in Georgia. (Disclosure: Cascade Bank belongs to the Cafesjian Family Foundation, which also owns this newspaper.)
Targeted economic investments in Tbilisi, Javakhk, and the Black Sea ports would also mean strengthening the Armenian community in Georgia, giving them the confidence to stay in Georgia and have their voices heard in national politics.
"A democratic Georgia that shares European values provides an important opportunity for a long-term alliance with Armenia," says Martirosyan. "But such an alliance would require consistent and-thought out engagement on the part of Armenia."
(Published in the Armenian Reporter, February 10, 2007)