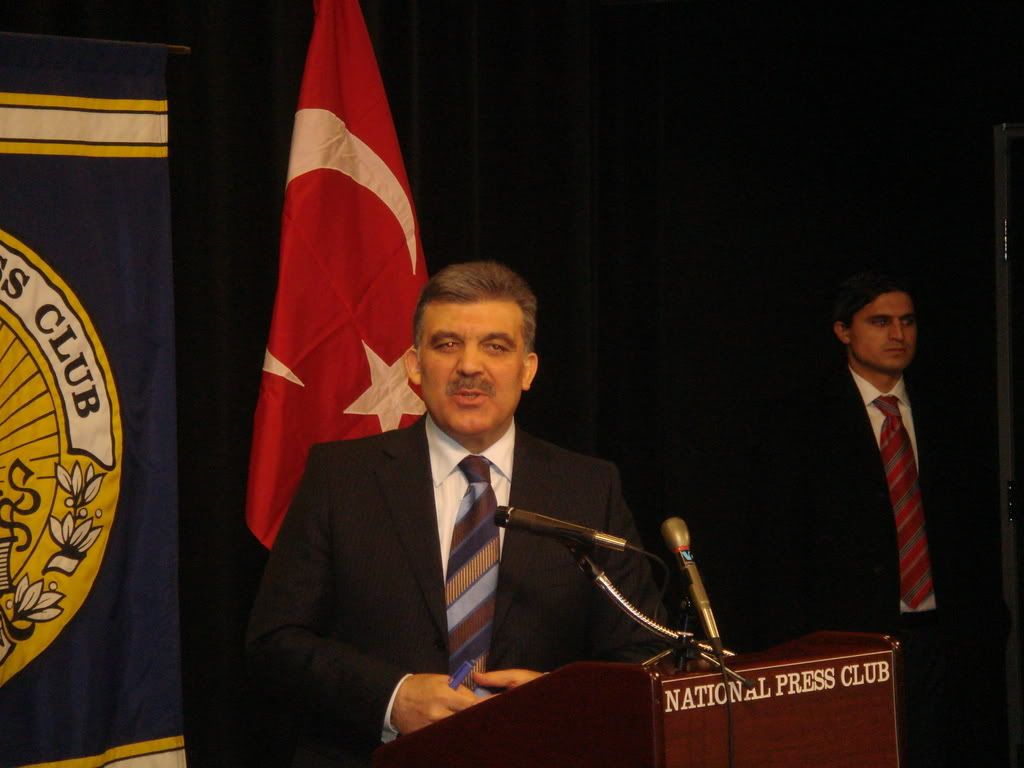 Turkish Officials in Washington Gather Forces to Block Genocide Resolution
Turkey's Foreign Minister, MPs, and Armed Forces Chief are Arriving This Week and Next
By Emil Sanamyan (Special to the Armenian Reporter)
WASHINGTON, DC – Following the introduction of a draft congressional resolution on the Armenian Genocide on January 31, 2007, senior Turkish officials launched a series of visits to Washington to tout Turkey's importance, while warning that U.S.-Turkish cooperation would be "harmed" if a resolution affirming the U.S. record on the Genocide is adopted.
Turkey's Foreign Minister Abdullah Gul confirmed that the Genocide resolution, along with Turkey's concerns over Iraq, has dominated his agenda in Washington. Turkey is seeking to prevent a vote on House Resolution 106 (H. Res. 106), which has already won support from about 170 House members.
Speaking at Washington's National Press Club on Tuesday, Gul argued that Turkey is of such importance to the United States that America should not risk aggravating its relations by affirming the Armenian Genocide.
Asked by the Armenian Reporter why Turkey's warnings should be taken seriously, if its relations have survived similar resolutions adopted by over a dozen other countries, Gul hinted that the U.S. is more vulnerable to Turkey than Canada or European countries that have recognized the Genocide. He specifically pointed to Iraq and Afghanistan as areas where the U.S. needs Turkey's support.
Bush Administration Opposes the Resolution
On February 5 and 6, Gul met with Vice President Dick Cheney, President Bush's National Security Advisor Stephen Hadley and Secretary of State Condoleezza Rice. Administration officials have pledged to work against the resolution.
According to sources close to Congress at least one House member received a telephone call from Undersecretary of Defense Eric Edelman. A former U.S. Ambassador to Turkey, Edelman resigned his position in 2005 after repeated anti-Semitic comments made against him in the Turkish media. He was reportedly calling to oppose the resolution.
"We are working harder than usual [to prevent the vote]," Deputy Assistant Secretary of State Matt Bryza was quoted as saying by the Associated Press. Echoing comments made by Turkish officials on the issue, Bryza argued that "a congressional resolution would be a tremendous blow to our bilateral relationship."
A State Department transcript of the February 1 meeting with Turkish journalists cited Bryza as referring to the Armenian Genocide as "so-called." But speaking with the RFE/RL Armenian Service on February 7, Bryza said that the Administration "do[es] not deny the mass killings and forced exile of up to 1.5 million Armenians."
Dan Fried, Assistant Secretary of State and Bryza's manager at the Department, told the Turkish Daily News that while the Administration will oppose the resolution, "If a resolution does pass … I hope that our Turkish friends will understand that it's not the position of the U.S. administration, and our interests, Turkey's interests and America's interests, will still bring us together."
Fried also added, in reference to the Genocide, that "Honest countries, free countries need to seriously look at these dark spots [of history], and no matter how painful it is, they need to confront them."
Turkey Lobbying U.S. Congress, Seeks Jewish Support
On February 7, Gul was due to meet Democratic Majority leader Steny Hoyer (D-MD), Foreign Affairs Committee Chairman Tom Lantos (D-CA) and other key congressmen.
Turkish media reported that the House Speaker Nancy Pelosi declined to meet Gul. It is up to the House Speaker whether a vote on the resolution takes place, and Pelosi, a long-time supporter of affirmation, has previously expressed support for the resolution.
Turkish and Azerbaijani reports suggested that the Turkish Foreign Minister will be specifically lobbying Congressmen John Murtha (D-PA) and Rahm Emanuel (D-IL) to weigh in with Speaker Pelosi.
The Azerbaijani Press Agency (APA) further claimed that Turkey was supported by "three" Jewish American organizations. It cited an unnamed leader of one of the Jewish organizations as telling Turkish journalists that "[Congressman] Emanuel should be persuaded of the importance of preventing the bill. [Speaker] Nancy [Pelosi] always follows Emanuel's advice."
The Jewish Telegraph Agency (JTA) reported that on Monday night Gul met with representatives from a number of Jewish American organizations and asked them for assistance in opposition to the Armenian Genocide resolution. JTA did not say if any such assistance was promised.
Reached by the Armenian Reporter, the American-Israeli Public Affairs Committee (AIPAC) spokeswoman Jennifer Cannata said that the organization had no formal comment on the Genocide resolution. The American Jewish Committee (AJC), whose representatives that took part in the meeting with Gul, could not provide comment at press time.
Starting this week, about a dozen Turkish parliamentarians will follow Gul to lobby the U.S. Congress and the public against the Genocide resolution.
Next week, Chief of Staff of the Turkish Armed Forces Gen. Yasar Buyukanit will arrive to try to mend the bilateral military relations severely damaged as a result of the Iraq war.
(Published in the Armenian Reporter, February 10, 2007)