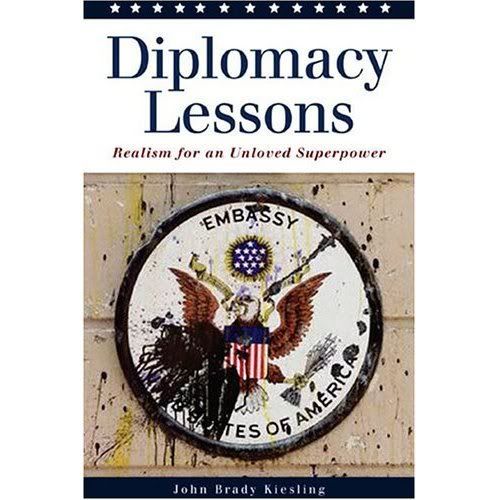 This review first appeared in the January 6 issue of the Armenian Reporter.
State Department's Former Armenia Hand Outlines Vision for U.S. Foreign Policy, Recalls Country Experience
By Emil Sanamyan (Special to the Armenian Reporter)
The ongoing conflict in Iraq has and continues to generate much literature. Most of it is predictably critical of the Bush administration's handling of the issue. John Brady Kiesling's Diplomacy Lessons: Realism for an Unloved Superpower is not an exception. There are several reasons, however, why this book can be considered unique and of particular interest to this newspaper's readers.
First, Brady Kiesling is not simply a critic of the war. Kiesling was the first U.S. diplomat to resign in protest over Iraq and put his principles before his career. While many U.S. diplomats were similarly opposed to the war, only three went beyond quiet internal dissent. The upside of this is that unlike most of his colleagues Kiesling is free to express himself publicly.
Second, between 1997 and 2000, Kiesling was directly involved in U.S. policy towards Armenia, including a two-year posting at the Embassy in Yerevan, and later in Washington. More that than that, Kiesling was one of just a handful of State Department officials fluent in Armenian. He is an expert on Armenian architecture, having co-authored with Raffi Kojian the 1999 guidebook Rediscovering Armenia, when such books were few and far in between.
Finally, Kiesling is not only candid when it comes to U.S. policy or developments in Armenia. While his decision to leave the State Department rested on his principled opposition to the Iraq war, issues in Kiesling's personal life could also have had a role. In the book Kiesling mentions his depression over divorce and being passed over for promotion. Such details give the book the rawness and honesty that most current events books lack.
America's Interests First
A 20-year veteran of the U.S. Foreign Service, Kiesling resigned his position as political counselor of the U.S. Embassy in Greece in February 2003 to protest the impending invasion of Iraq.
No dove, Kiesling supported the U.S. interventions in the former Yugoslavia in the 1990s and the overthrow of the Taliban in Afghanistan following the September 11, 2001, terrorist attack. But Kiesling could not support a war that he believed at the outset was not in America's interests.
While the book details the inner workings of the U.S. State Department, from Kiesling's vantage points in Washington and during assignments around the world, this is not simply another memoir. In addition to his experiences, Kiesling outlines his vision of a realistic foreign policy that could best serve U.S. interests.
This reviewer sees this vision resting on five key theses.
Thesis One: The U.S. interest lies in protecting the welfare of its citizens. The challenge is to differentiate between truly representative policies and those pursued for either narrow or idiosyncratic reasons. Another caveat is that the U.S. public cannot always be trusted when foreign policy issues are decided – initial support for the war in Iraq is a case in point.
Thesis Two: Maintaining a moral high ground in the world is important for the U.S. interest. The world was truly awash in goodwill for the United States following the 2001 terror attacks. The world was nearly equally opposed to the U.S. military campaign in Iraq. While certainly U.S. policies should not be decided abroad, the combined weight of the world opinion, particularly of long-time allies, cannot be ignored.
Thesis Three: America's foreign policy opportunities, either peaceful or military, are limited. (The military options are just fraught with more negative consequences). While the United States is at the zenith of its international influence, it still cannot mold countries or peoples completely to its own liking, and certainly the chances for success are less when U.S. fails to secure broad international support.
Thesis Four: Just as in the United States, foreign policies of America's partners and adversaries are largely driven by domestic politics. Thoughtful and effective U.S. diplomacy demands understanding of these dynamics and patient coalition building based on shared interests.
Finally, Thesis Five is that the U.S. interest is best served when international agencies, like the United Nations, are used. While frequently maligned for their inefficiency and corruption (much like representative assemblies on the national level), there is no alternative to such organizations when it comes to garnering international legitimacy. The U.S. helped establish such organizations and funds their work precisely to help it project its interests and manage international crises.
The Armenia Experience
Three issues typically bring Armenia into the international media limelight: the Genocide, the unresolved Karabakh conflict and, every few years, elections.
Kiesling mentions the Genocide only in passing as an issue that is still "unsayable" in Turkey (p. 124), even as Turkish politicians have the temerity to accuse the U.S. and Israel of "genocide" in Iraq and Palestine, respectively.
Less directly, the issue of Armenian-Turkish relations comes up in the person of the Council of Foreign Relations' David Phillips, who was between 2000 and 2004 contracted by the U.S. government to moderate the "Turkish-Armenian Reconciliation Commission" (TARC). In early 2003, Phillips was simultaneously engaged in drafting the State Department's plans for the post-war governance of Iraq (p. 29). Phillips was then so upbeat about the war that Kiesling had second thoughts about resigning.
Kiesling shares two episodes from his Karabakh experiences. While still at the U.S. Embassy in Armenia in 1999, Kiesling met with Nagorno-Karabakh's Prime Minister. Kiesling recalls that the U.S. was just launching the congressionally-mandated humanitarian assistance to Nagorno-Karabakh. As with other such programs, the aid was to be distributed through a contracting agency, in this case a non-government organization called Save the Children. Karabakh officials insisted that in order to operate, the NGO needed to formally register in NKR and pay taxes. Kiesling, on behalf of the State Department, refused and threatened to pull the assistance (p. 71). In the end, the NKR government amended its law that exempted all humanitarian organizations from paying taxes.
In another episode, Kiesling writes of his trip to Armenia with then-Deputy Secretary of State Strobe Talbott. At the time, Kiesling was deputy to Ambassador Carey Cavanaugh, the State Department's Karabakh negotiator. Shortly prior to the visit, Presidents Robert Kocharian and Heydar Aliyev met and apparently made sufficient progress to elicit high-level U.S. attention. But it so happened that Talbott's delegation arrived just hours before the October 27, 1999, terror attack at the Armenian parliament that killed senior Armenian officials and ended up paralyzing the Armenian government for most of the next six months. While many local and outside commentators saw domestic or foreign conspiracies, Kiesling is "reasonably certain that the timing was coincidental and that the plot was driven by a personal grievance" (p. 69).
A year and a half earlier, in March 1998, Armenia had held presidential elections in which then-Prime Minister Robert Kocharian defeated former Soviet Armenian leader Karen Demirchian in two rounds of voting. Kiesling, who was at the U.S. Embassy in Armenia at the time, recalls violations at nearly half of the electoral precincts he visited. But, Kiesling believes that "effective democracy-building must cope with the reality that self-seeking local officials are often more anti-democratic than the central government they help elect." Having analyzed the electoral data, Kiesling concludes that Kocharian would have won the election anyway, but by a much smaller margin than the 59 to 41 percent officially reported (pp. 168-172).
Just days before resigning from the State Department in February 2003, Kiesling returned to Armenia to monitor the vote in which Kocharian faced re-election. As an observer with the Organization for Security and Cooperation in Europe (OSCE), Kiesling traveled to Kapan in Armenia's southern Syunik province. Then too he observed violations, but he also noted that despite public unhappiness with the state of rule of law in the country, Kocharian retained sufficient legitimacy to hold on to power. Kocharian's positions strengthened as "ordinary Armenians began to climb slowly out of the worst of their poverty" (p. 29). Kiesling's election analysis is available online at
www.bradykiesling.com/election_fraud_analysis.htm
.
A Unique Contribution
Kiesling's book is a welcome and unique contribution to the debate on U.S. foreign policy. The author combines a scholarly approach with practitioner's experience and a storyteller's wit to offer lessons of diplomacy that put theories to practice and transcend modern-day challenges, while also entertaining a lay reader. As someone with on-the-ground experience, Kiesling also offers a rare, informal insight into developments in Armenia from a U.S. diplomat's point of view.