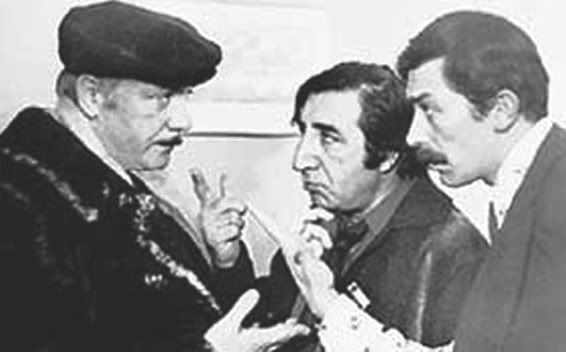 Actors from the 1977 Soviet film classic "Mimino" are etched in popular minds as symbols of Armenian-Georgian friendship in adversity. L-R: Sergei Kuravlev, Frunzik Mkrtchian, Vakhtang Kikabidze. Source: SovErkon.ru
Published in the Janury 13, 2007 issue of the Armenian Reporter.
Armenia and Georgia: Will the Delicate Embrace Survive a Gas Onslaught?
By Emil Sanamyan (Special to the Armenian Reporter)
WASHINGTON, DC – Georgia is one of only two neighboring countries which shares an open border with Armenia. It is Armenia's main outlet to the world, with over 90 percent of Armenia's external trade crossing Georgia's territory either by air, overland, or making use of Georgia's ports. Georgia is also home to a large Armenian community with deep roots in history, centered in the capital city Tbilisi and in Javakhk (Javakheti).
Few countries in the world are as important to Armenia as is Georgia.
Georgia in turn earns many tens of millions of dollars in revenue from transiting goods either destined for or originating in Armenia. Last summer, Armenian tourists helped make the province of Ajaria Georgia's fastest-growing local economy. Georgia also needs Armenia's help in the Armenian-populated Javakhk, and as leverage in Georgia's bargaining with Russia, Turkey, and Azerbaijan.
Few countries in the world are as important to Georgia as is Armenia.
But current tensions between Russia and Georgia threaten to push the latter into the camp of Armenia's adversaries. Georgia's importance to Armenia has not been lost on Turkey and Azerbaijan, which have long used a mixture of carrots and sticks to recruit Georgia into anti-Armenian projects. Most recently, this approach has been reflected in the Turkish-Azerbaijani offer to Georgia of discounted gas supplies in exchange for expediting the Kars-Akhalkalaki railroad; it is also possible that Turkey and Azerbaijan have advanced other unpublicized initiatives against Armenian interests.
Gas Pressure
Both Armenia and Georgia are gas importers. Russia has long been the sole supplier of natural gas to both. Without local nuclear energy capacity, natural gas is even more significant to Georgia than it is to Armenia. Both countries are seeking to diversify their energy imports.
Armenia is looking to new renewable capacities, Iranian gas, and a new nuclear power plant. Georgia has likewise looked to Iran for gas supplies via Azerbaijan and Armenia, but it also has the option of direct supplies from Azerbaijan.
Georgia is under particular pressure to diversify away from Russia, since Tbilisi is banking on integration with the West as a way to regain control of the breakaway provinces of South Ossetia and Abkhazia, and provide for the country's security and development.
Starting this month, Russia will charge Georgia $235 per thousand cubic meters (tcm) of gas, up from $110/tcm in 2006 and about $60/tcm in 2005. Armenia will continue to pay $110/tcm through 2008, having transferred control over its gas infrastructure, reportedly including the future Iran line, to Russia.
Annoyed with their former satellites' drift westward, the Russian leadership has decided to charge the former Soviet republics the prices it charges European countries, either in cash or, as in the case with Armenia, in cash and assets.
(Along with Armenia, both the Ukraine and Moldova were able to secure lower than market prices for gas, having transferred to Russia partial or full control over their gas infrastructures; Belarus is expected to follow suit soon.)
The meteoric rise in the price for Russian gas has put an added pressure on Georgia to secure another source of natural gas. Last winter, during the suspicious interruption in Russian gas supplies to both Georgia and Armenia, Georgia turned to Iranian gas supplied via Azerbaijan. Armenia was able to ride out that crisis thanks to its gas reservoir.
But the problem with buying Iranian gas is not only that it irritates the United States. It is also expensive. Iranians demand world prices for its supplies. Or, alternatively, any discount from the Tehran government might come with political strings attached that would make such a deal politically unaffordable for a U.S.-backed Georgia.
Faust's Bargain Falls Through (for Now)
These pressures provide Azerbaijan and Turkey with an opportunity. According to December 21 reports in the Turkish Daily News and Russia's Kommersant newspapers, the two countries have tied their offer of energy assistance to Georgia to the latter's support for the Kars-Akhalkalaki rail line, which would link Georgia and Turkey while bypassing Armenia. In addition, according to Kommersant, Turkish leaders also demanded that Georgia expedite the settlement of ethnic Turks displaced from Central Asia in the Armenian-populated Javakhk region.
In exchange, Georgia is seeking a firm Azeri-Turkish commitment on gas supplies as well as payment for any rail-related expenses. On December 26, following his visit to Baku, the Georgian Prime Minister Zurab Nogaideli announced that the railroad project would be finalized during a trilateral meeting in Tbilisi on January 10, and construction launched later in 2007.
Azerbaijan and Turkey view the Kars-Akhalkalaki railroad as a form of pressure on Armenia, and Azeri President Ilham Aliyev has stated this publicly. Azerbaijan is also trying to remove any economic incentives for Turkey to open the border with Armenia. Armenian officials appear to share this perception of the project, with Foreign Minister Vartan Oskanian repeatedly expressing concerns, and even offering to use the existing Kars-Gyumri-Tbilisi rail line free of charge.
The gas issue is more complicated. At this time it is unclear how much gas Azerbaijan would be able to produce in 2007. Azerbaijan would also need to rely on its own production for domestic needs in lieu of more expensive Russian and Iranian gas. As a result, Azerbaijan has so far agreed to supply Georgia with only 90 million cubic meters of gas at $120/tcm. Georgia's annual demand is in the neighborhood of 1.7 billion cubic meters.
Georgian leaders, including Prime Minister Nogaideli in mid-December in Washington, have repeatedly made optimistic forecasts that Georgia would reduce and even completely phase out Russian imports in the course of 2007 in favor of the cheaper Azeri gas. These statements were probably based on Azeri estimates that for now appear to be practically unattainable.
By the end of December, Georgian leaders citing "technical difficulties" in Azerbaijan agreed with Russia's GazProm to buy nearly 1.5 billion cubic meters in 2007 at $235/tcm. Georgian officials are now scrambling for funds to cover the resulting budget deficit and subsidies in order to prevent a steep price hike for consumers.
Will Georgia Take Anti-Armenian Steps?
In recent years both Azerbaijan and Turkey have worked to improve their relations with Russia. Azerbaijan has tried to neutralize Russian support for Armenia, while Turkey is building an "Eastern alternative" to leverage its recently rocky relations with Europe and the U.S.
Aliyev's decision to aggravate Russia with discounted gas supplies to Georgia is highly unlikely to have been a mere expression of neighborly concern. As a result, Russia has also doubled the price of gas it exports to Azerbaijan. More likely this is yet another effort to exact a price from Georgia in the form of pressure on Armenia – Aliyev's stated foreign policy priority.
Turkey can afford to be flexible too. It is currently over-supplied with gas, supplied mostly by Russia with a smaller volume from Iran. It could have foregone any Azerbaijani supplies in 2007 anyway, but Russian price hikes are providing Turkey with an opportunity to convert these would-be supplies into a loan to Georgia, which the latter would have to repay in kind and in policy.
The main questions for Armenia though are: Will Georgia be forced to join Azerbaijan's anti-Armenian campaign, and to what extent? And, What can Armenia do about it?