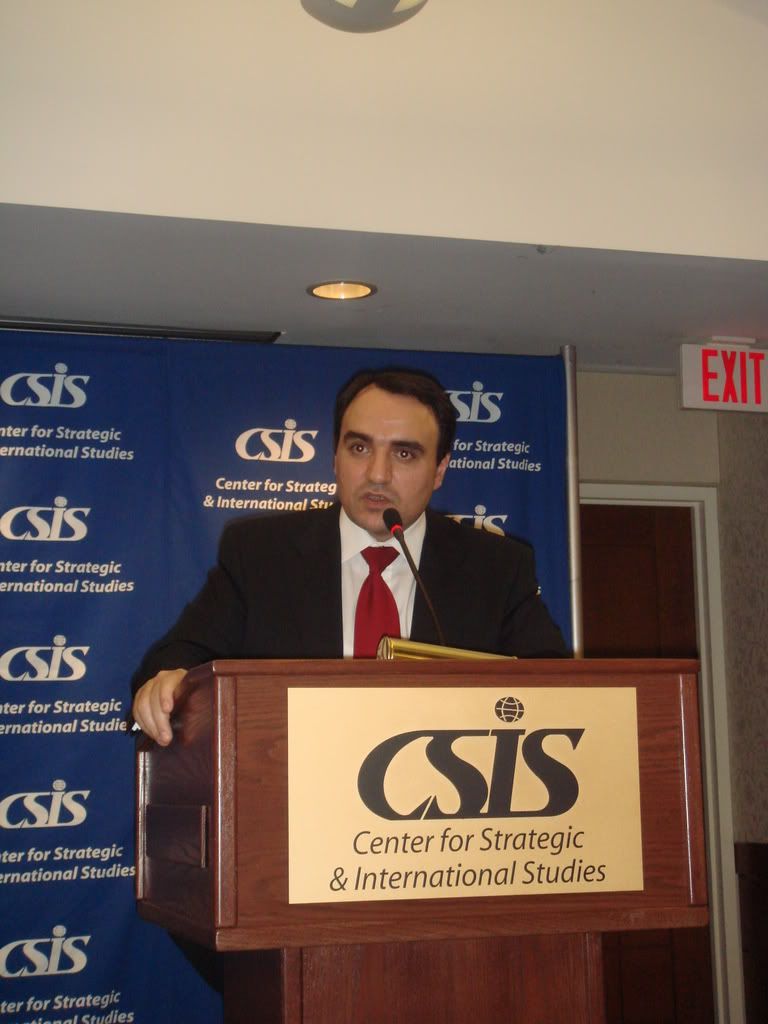 Armenia's Pre-Election Campaign Spills Into Washington
By Emil Sanamyan
Special to the Armenian Reporter
WASHINGTON, DC – Two Armenian political party leaders were in Washington last week to raise concerns about what they see as unfair treatment of opposition parties in the run-up to Armenia's May 12, 2007, parliamentary elections. But a Yerevan expert monitoring the pre-election process argued that the picture they presented was incomplete.
Artur Baghdasarian of the Orinats Yerkir (Country of Law) Party and Aram Sargsyan of the Hanrapetutyun (Republic) Party complained of what they see as government-imposed restrictions on their access to television and their ability to hold meetings with supporters around the country.
Speaking at the Carnegie Endowment for International Peace on February 13, Sargsyan expressed "grave fears that we will not see a free and fair vote," and predicted that the government would try to maintain control at all cost, including through pressure and fraud.
But at a February 15 talk at the Center for Strategic and International Studies, Baghdasarian argued that he remains optimistic that his party will be successful in its "struggle for democracy," and that clean elections are possible.
Aleksandr Iskandarian is with the Yerevan-based Caucasus Media Institute (CMI), a non-partisan organization conducting pre-election monitoring with funding from the Council of Europe. In a phone interview with the Armenian Reporter, Iskandarian discussed CMI's media monitoring of four of Armenia's TV channels and two major radio stations.
According to CMI research, with the exception of Public TV (H1) these outlets provide less coverage of governing (incumbent) parties than of other political forces. (See
for details.)
"Political entities in Armenia have different levels of resources, and as a result they have different levels of access to the population," said Iskandarian. "Smaller parties have less access, but since Armenia is a small country they could still reach out to the electorate door to door or through meetings. Neither Orinats Yerkir nor Hanrapetutiun are actively engaged in that."
According to the U.S.-commissioned Armenia-wide opinion poll conducted last year by the Gallup Organization, the U.S. International Republican Institute, and the Armenian Sociological Association, and reported by Regnum newsagency, Baghdasarian was the fourth most-trusted politician in Armenia, with a 9 percent rating, behind opposition politician Artashes Geghamian (15 percent), pro-government businessman Gagik Tsarukian (13.5 percent) and President Robert Kocharian (12 percent). Aram Sargsyan's rating was under 1 percent.
Baghdasarian's party was part of the ruling government coalition in 2003-2006, until he was forced to resign as Parliament Speaker, citing policy disagreements. Sargsyan was briefly Armenia's Prime Minister between 1999 and 2000, and joined the opposition after being dismissed from the post by President Kocharian.
Writing in the Eurasia Daily Monitor on February 20, Yerevan-based political analyst Emil Danielyan predicted that Baghdasarian's Orinats Yerkir, as well as the coalition's Armenian Revolutionary Federation and opposition parties led by former presidential candidates Stepan Demirchian and Artashes Geghamian, will contest the upcoming elections without forming pre-election blocks with other parties.
Sargsyan, on the other hand, is seeking an electoral alliance with the Heritage party of Raffi Hovannisian and the National Democratic Union of Vazgen Manukian, as well as Demirchian.
But according to Iskandarian, most opposition parties have limited support and the main competition in the upcoming elections is likely to be between two pro-government forces: the ruling Republican Party (HHK) and Tsarukian's Prosperous Armenia Party (BHK).
Danielyan wrote that the HHK, led by Prime Minister Andranik Margarian and Defense Minister Serge Sargsian, is "heavily relying on its grip on most central and local government bodies" to recruit supporters. Tsarukian's BHK, Danielyan continued, has been engaged in "nationwide provision of agricultural relief, free medical assistance, and other public services," all of which "seems to be translating into…a large number of 'clean' votes" for an ally of President Kocharian.
Iskandarian, while concerned that methods employed are often undemocratic, argues that they still reflect a real political competition for votes, as opposed to an effort to stuff the ballot. "The real political dynamic in Armenia is the emergence of several competing parties within the political establishment," Iskandaryan explained. "This development has replaced the old government-opposition dynamic."
Published in Armenian Reporter, February 24, 2007