Turkish Security Agencies Linked to Dink's Assassination
In Wake of Murder Local Dissidents Fear for Their Safety
By Emil Sanamyan
Washington, DC – The confessed conspirator in Hrant Dink's assassination has implicated a senior police official in the murder, Turkish media reported since February 10, 2007. Police denied the allegation and threatened legal action against the media reporting them.
As this paper reported previously, Turkish Prime Minister Recep Tayyip Erdogan and his deputy Mehmet Ali Sahin said they suspect a "deep state" conspiracy behind the plot to kill Dink. The reference is widely used in Turkey to connote an ultra-nationalist mafia encompassing parts of the state bureaucracy, security forces, and criminal world believed to be behind much of the violence in Turkey.
But caught in a balancing act with the military-secular establishment, Erdogan's government seems unlikely to be able to effectively challenge these forces, especially ahead of this year's elections, when all parties are courting nationalist voters.
Turkish Media Names "Deep State" Suspects
Turkish newspapers report that a suspect in the Dink murder case, Yasin Hayal, told investigators that the order to kill Dink came from Trabzon police counter-terrorism chief Yahya Ozturk via police informant Erhan Tuncel. Hayal confessed to training and arming Ogun Samast, charged with murdering Dink on January 19. Tuncel has so far refused to testify. Ozturk denied the claim.
The allegation came just days after Turkish TGRT television aired footage of police and gendarmerie officers posing for "souvenir" photos with Samast and praising his actions shortly after he was detained as a suspect in Dink's murder. The officers pictured were reportedly dismissed or reassigned from their posts.
Further, the Turkish daily Radikal reported that Samast also received very warm treatment from jail staff – a claim also denied by the authorities. Hayal, Tuncel, and Hayal's relative Coskun Igci were reportedly recruited by the Trabzon Security Directorate following the October 24, 2004, bombing of a local McDonalds restaurant, organized by Hayal and Tuncel. In return, Hayal was given a lenient sentence and Tuncel was not charged.
The daily Hurriyet reported that Hayal also claimed that after the 2004 bombing Tuncel introduced him to a National Intelligence Organization (MIT) operative Ihsan (or Ismail) Kasap, who offered help in exchange for cooperation. MIT denied the allegation.
(In a Radikal article published soon after the murder, Professor Taner Akam wrote that shortly before his death Dink was called to the Istanbul Governor's office, where he was threatened by an MIT official and the Lieutenant Governor. The English version of Akam's article was carried in the Reporter's February 10, 2007 edition.)
Tuncel is said to have received an equivalent of $175 after reporting to police on February 17, 2006, of Hayal's intention to kill Dink. Igci similarly informed Gendarmerie of Hayal's plan in June 2006. The information was relayed to respective headquarters, but the agencies are not known to have taken any action.
On February 13, Hurriyet reported that Hrant Dink's widow Rakel has petitioned for charges to be filed against officials accused of negligence in the case.
Istanbul prosecutors investigating Dink's murder are said to have formally inquired with MIT, the Security Directorate (police) and Gendarmerie (internal security forces that are part of the Turkish military), whether Hayal, Tuncel, and Igci were on the payroll of these agencies as they had claimed. The Turkish government is also probing the performance of Trabzon and Istanbul police, with several senior officials having been dismissed already.
Turkish Dissidents Targeted in "Organized Campaign"
More than 100,000 people marched at Dink's funeral and protested both the murder and the state's anti-democratic policies. But the murder has also been followed by a nation-wide nationalist backlash.
The Agence France Presse (AFP) reported last week that local intellectuals who have criticized Turkey's official policy on the Armenian Genocide and other "sensitive" issues are growing increasingly anxious for their safety since Dink's murder.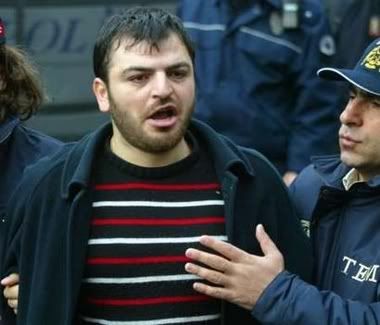 The news agency reported that "speculation has been rife here that Nobel Laureate Orhan Pamuk has fled the country over security concerns, ever since he left for New York last month to teach at Columbia University." Pamuk, who like Dink had been prosecuted for publicly commenting on the Genocide, was threatened by Hayal as the latter was charged with organizing Dink's murder. Sabah has reported since then that Pamuk plans to fly to Istanbul on April 5.
AFP writes that Professor Baskin Oran, who authored a 2004 government-sponsored report that criticized Turkey's minority policies, has also received threats, and in a recent newspaper column decried a "culture of lynching" in Turkey.
The BBC reported that Professor Murat Belge, who was prosecuted for his remarks at a 2005 Istanbul Conference on Ottoman Armenians, is under 24-hour police protection. Belge told BBC, "Everyone is in danger. This is getting very savage."
Erol Onderoglu of "Reporters Without Borders" told AFP that the threats against intellectuals were not isolated acts, but an organized campaign.
EDITOR'S NOTE: This report benefited from Hakob Chakrian's translations from the Turkish press as published in the Armenian daily Azg on Feb. 14-15, 2007, and English versions of the Turkish dailies Hurriyet, New Anatolian, Sabah and Zaman).
Published in the Armenian Reporter, February 24, 2007