Article published in the March 31, 2007 Armenian Reporter

CONGRESSMAN SCHIFF IS STAYING POSITIVE ON THE GENOCIDE RESOLUTION
And U.S. support for Karabakh's self-determination
Editor's note: On March 22 and again on March 28, our Washington Editor Emil Sanamyan spoke with Rep. Adam Schiff (D-CA) (see the fact box for information about the Congressman). Below is the transcript of those interviews.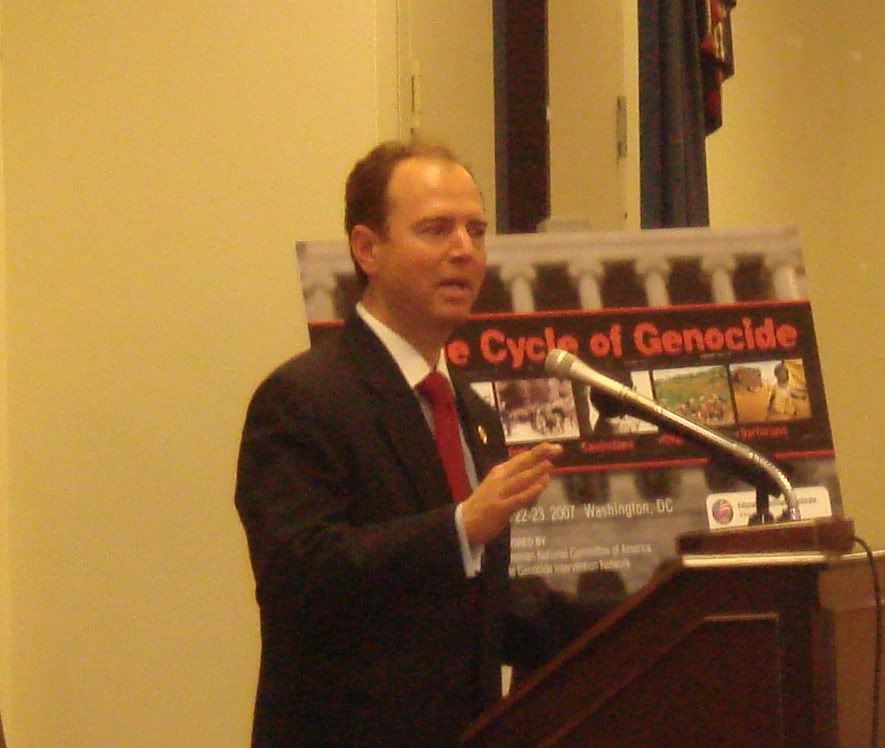 Reporter: What is the stumbling block for H. Res. 106 [the proposed House resolution affirming the Armenian Genocide introduced on January 30] going forward?
Rep. Schiff: I hope there is no stumbling block. Right now we are still gathering supporters for the resolution. We are stronger than we have ever been with more than 180 co-sponsors. It's a very good start and I like to think positive and I am very hopeful. I think the biggest challenge is overcoming the power of the Turkish lobby, which is very considerable.
Reporter: There has been hope expressed previously that there would be congressional action on H. Res. 106 before April 24. Now the connection seems to be made to the upcoming elections in Turkey. Do you see any such connections in terms of timing?
Rep. Schiff: Right now the only timing consideration is that Congress is focused first and foremost, as we need to be, on Iraq. So every foreign policy is going to have to wait until we resolve at least the immediate issues we are grappling with in Iraq. That's the more pressing timetable. Beyond that, I don't know what the timing is. I am much more concerned about having [H. Res. 106] taken up and having it taken up successfully than whether it is on this or that day.
Reporter: The Iraq issue is likely to stay on top of the agenda for the foreseeable future. Do you see a possibility that the resolution may not come up in this Congress (2007-2008)?
Rep. Schiff: I am keeping positive and pushing forward until I have a reason to believe otherwise and I am going to assume the best.
Support for Karabakh
Reporter: What do you think of the current U.S. policy on Karabakh?
Rep. Schiff: I think it is enormously important that we maintain parity funding between Armenia and Azerbaijan. I am concerned that the Administration is making an effort to get away from that. Armenia has been a steadfast ally [of the United States] and I think that should be rewarded not penalized. I also don't think we should be emboldening Azerbaijan at the time that it is acting increasingly belligerently vis-a-vis Karabakh.
I was hopeful some time ago when it looked like Armenia and Azerbaijan and Karabakh were making progress in talks. But unfortunately the Azeri President [Ilham Aliyev] has not followed through with his father's efforts in that direction. I think that the process has stalemated.
I certainly feel confident that U.S. will continue to support the right for self-determination for the people of Karabakh. I had a chance to visit Karabakh some years ago and I was enormously impressed with the pioneering spirit of the people who live there and who formed the government there. And I am determined to do all I can to support their efforts.
Reporter: U.S., however, does not recognize the Nagorno Karabakh Republic and says that Karabakh's future status would be resolved through negotiations. Are you satisfied with the status quo in this U.S. position or do you see the need or room for change in this policy?
Rep. Schiff: Some years ago I worked to free up to $20 million in funds for Karabakh. And I am determined to continue to advocate for the right of self-determination for the people of Karabakh. I think that facts on the ground speak for themselves – today this is largely an Armenian community that chose to express its self-determination and I think they should be supported in that. And I will continue to keep our Administration's feet to the fire in support of that right for self-determination and make sure that in our funding decisions vis-a-vis Armenia and Azerbaijan we are not sending mixed signals in terms of the rights of the people of Karabakh.
Reporter: Other than supporting funding, do you see any congressional role in developing closer relations between Nagorno Karabakh and the United States?
Rep. Schiff: I would certainly like to see closer relations. There are many efforts where we can work collaboratively. One of the issues that I am pursuing now vis-a-vis Armenia, but I think would have application in Karabakh as well, is efforts to strengthen the rule of law, democratic process, increase transparency to let people know that if they invest in Armenia, in Karabakh that those investments are good, sound investments that would be protected and rewarded.
Reporter: Armenian American organizations have called for increasing the overall volume of annual U.S. assistance to Karabakh and expand such assistance to include pro-democracy programs as well as economic development. Is that something you will be championing as a member of the Foreign Operations Subcommittee?
Rep. Schiff: I will be championing strong economic support to Armenia and continued support to Karabakh. We are just at the beginning of the appropriations process for Fiscal Year 2008, but my top priority is that there is at least parity in funding between Armenia and Azerbaijan. I am also working to secure funding for the California trade office in Armenia, which is an effort that I initiated while I was a state senator and I hope will continue.
Reporter: In terms of security assistance parity, when that's discussed the issue of a separate multi-year $100 million U.S. security program [the so-called Caspian Guard initiative] which has focused on upgrading Azerbaijan's airbases and training its special forces is generally not made part of that equation. Should Congress take a closer look at that program to see how that's impacting the balance in Karabakh?
Rep. Schiff: Certainly, Congress has a very important role to play in making sure that any assistance in whatever form doesn't negatively affect the balance of power in a region that is very important to the United States or disadvantage our ally. There are often competing goals as to where we need to make investment in the war on terror or in support of economic development of our allies. So, all of these things need to be examined and appropriate action taken.
Millennium Challenge Compact
Reporter: During a recent hearing in the House Foreign Operations Subcommittee you raised concerns with the Administration about the Millennium Challenge Account funding essentially supplanting the FREEDOM Support funds that are being reduced to Armenia and other states. Has that issue been addressed to your satisfaction or is that still is an ongoing process?
Rep. Schiff: Yes, that is still an ongoing concern. When we initiated the Millennium Challenge assistance we never contemplated that we would take funds from existing efforts in order to fund that – to rob Peter to pay Paul, so to speak. So I am concerned that this may be what the Administration is contemplating in Armenia and elsewhere; that funds that would have ordinarily gone to these countries anyway are cut back in order to fund Millennium Challenge efforts. I am not sure that advances the [overall] cause. I have not got a satisfactory answer yet and we are still going to be pursuing this.
Reporter: What's your sense of the elections coming up in Armenia, how that might impact the Millennium Challenge assistance?
Rep. Schiff: The important thing is that the elections are held in a credible way, that they are transparent to a degree that outside election monitors are able to come in and verify that the elections are conducted well. I think this would be a very positive development for Armenia. A lot of folks will be watching the elections carefully to make sure they are held appropriately. None of us, of course, are in the position to say what the result should be, we just think that the process needs to be sound and people have an opportunity to express what their choice is in a free and unfettered way. The world will be watching and it will be very important for us in Congress that the rule of law is observed and democratic institutions are given a chance to prosper.
Representing Glendale
Reporter: How does it feel being a Congressman from Glendale, representing such a dynamic Armenian community?
Rep. Schiff: Well, it is wonderful to represent Glendale, Pasadena and Burbank, cities with large and vibrant Armenian communities. I would tease one of Glendale city council members Rafi Manoukian, after he and I went to Yerevan some years ago and had a great many people stop us in the streets [recognizing and greeting us], that we developed an international reputation. Rafi, who was then [Glendale] mayor said: "Don't let this go to your head, Congressman. These are our Glendale constituents." Of course, these were our constituents on vacation in Armenia. The Armenian community has added so much to the quality of life in my district. To the arts, to medicine, to law, to humanities and I have really benefited from the rich Armenian cultural heritage that my district has.
* * *
Facts about Congressman Schiff (D-CA)
Constituency: Represents 29-th district, located in northeastern suburbs of Los Angeles that include Glendale, Pasadena, and Burbank.
Role in the 110-th Congress: Member, House Appropriations Subcommittee on Foreign Operations; original co-sponsor, House Resolution 106 affirming U.S. record on the Armenian Genocide.
Personal details: Born in 1960, Framingham, MA; Jewish; JD Harvard University, 1985; Attorney, Educator; married to Eve Sanderson.