Published in April 7, 2007 Armenian Reporter
From Washington, in Brief
by Emil Sanamyan
Armenian-American organizations offer spending recommendations to Congress
The Armenian Assembly of America (AAA), the Armenian National Committee of America (ANCA), and the U.S.-Armenia Public Affairs Committee (USAPAC) submitted recommendations for the March 29 public hearing held by the House Appropriations Subcommittee on Foreign Operations about spending in Fiscal Year 2008. The subcommittee, along with its counterpart in the Senate, sets U.S. foreign assistance levels.
The three organizations' recommendations were nearly identical on four items: (1) no less than $75 million in economic assistance for Armenia; (2) no less than $10 million in humanitarian and development aid to Nagorno-Karabakh; (3) equal amounts of Foreign Military Financing ($4.3 million) and International Military Education and Training ($1 million) to Armenia and Azerbaijan; and (4) strict monitoring of the conditions to the waiver of Section 907, which restricts U.S. assistance to Azerbaijan.
For the first time, the three organizations have also requested that the U.S. Congress take a closer look at the $100 million 8-year Caspian Security (Guard) initiative which has been underway since 2004. Under this program, the U.S. has helped upgrade sea and air bases, install radar equipment, and train special forces in Azerbaijan.
Additionally, the AAA requested U.S. support for Armenia's energy security and Armenia's participation in regional development projects. Both AAA and USAPAC specifically recommended congressional funding for confidence-building measures to support peace in Karabakh. For its part, ANCA requested U.S. funding for the California Trade Office in Armenia.
Rep. Watson warns colleagues of Turkey's Akhtamar ploy
On March 29, Rep. Diane Watson (D.-Calif.) sent a letter to congressional colleagues titled, "The Truth about Armenian Churches in Turkey," the Armenian National Committee of America reports. The letter came in response to Turkey's efforts to advertise its renovation of the Holy Cross Church on the Aghtamar island in Lake Van.
Ms. Watson noted that while the Turkish government "is holding an event to tout the rehabilitation of an Armenian Church . . . hundreds of [such] Churches in Turkey, some dating as far back as the 4th century, have been neglected and even egregiously abused." She added that this was part of "a desperate and malicious campaign, which began in 1915, to erase the Armenian people's physical and cultural existence in their historic homeland." For more information about the issue, see www.teachgenocide.com/background/hist_sites.htm.
Rep. Hoekstra looking for intelligence in Azerbaijan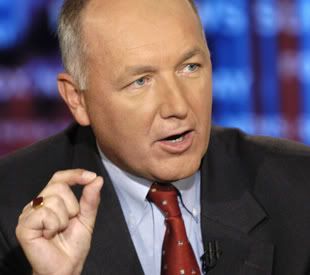 Rep. Pete Hoekstra (R.-Mich.), ranking member of the House Permanent Select Committee on Intelligence, was in Baku this week. Official reports suggested that Mr. Hoekstra's April 3 meetings with Azerbaijani officials focused on the "development of inter-parliamentary relations," but the representative is better known for his concerns about Azerbaijan's southern neighbor.
In a March 4 television interview with Fox News, Mr. Hoekstra complained that "we still don't have the intelligence community overall to give us, as policy-makers, the information that we need to make good decisions in North Korea, Iran and other places." On March 27 he told the Holland Sentinels, his hometown paper, that his frequent foreign travel helped him fill in the gap.
State Dept. plays down Caucasus missile defense talk amid tensions with Iran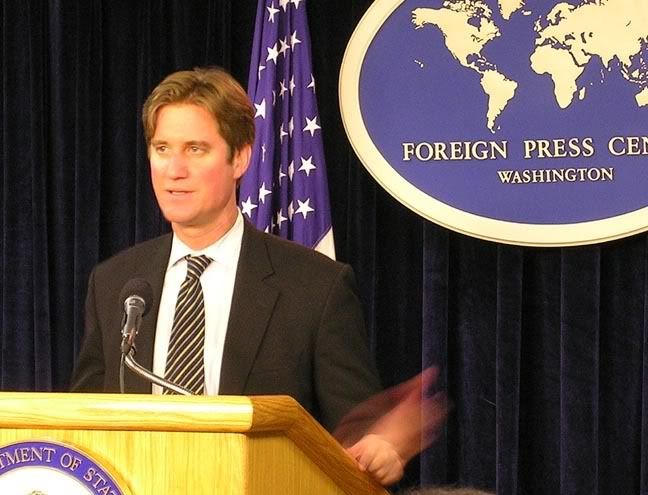 Deputy Assistant Secretary of State Matt Bryza was in Georgia last week. Speaking to the press in Tbilisi on March 30, he said, "the United States does not intend to deploy a missile-defense system in the Caucasus," the Azerbaijan Press Agency (APA) reported.
Earlier this year, the United States announced plans to place parts of a European-theater missile-defense system in Poland and the Czech Republic. U.S. Missile Defense Agency Director Gen. Henry Obering added on March 1 that the United States would like to be able to deploy mobile anti-missile radar in one of the countries of the Caucasus.
Armenia, Azerbaijan, and Georgia have all denied receiving any deployment requests from the United States.
A retired U.S. Air Force planner, Col. Sam Gardiner, told the Armenian Reporter that while Iran does not yet have missiles capable of reaching Europe, U.S. missile defense plans were clearly part of an overall effort to put pressure on Iran. He added that having mobile radar units in the Caucasus might make sense to provide additional early warning to U.S. allies.
"This is a game of strategic chicken," Mr. Gardiner said. It entails the ratcheting up of U.S. pressure, including a military buildup in the Persian Gulf and the detention of alleged Iranian operatives in Iraq. In recent months U.S. official have also expressed concerns about Iran's policies on ethnic minorities, including Kurds, Arabs, and Azeris.
***
While in Tbilisi, Mr. Bryza noted that the United States would "want to have an opportunity" to use air bases in Azerbaijan "in emergencies," according to APA. As part of its Caspian Security (Guard) initiative, the United States helped modernize several of Azerbaijan's air bases.
(A day before Mr. Bryza's statement, on March 29, the Azerbaijani government invited foreign diplomats to Haji Zeynalabdin Tagiyev [previously Nasosnaya] air base to showcase the MiG-29 fighter jets it just acquired from the Ukraine [see the March 24 edition of the Reporter for details]. On March 30, the muscle-flexing continued as Azerbaijani aircraft flew near Karabakh.)
In response to speculations that the United States would like to use Azerbaijan for strikes against Iran, the Azerbaijani Defense Ministry issued a statement on April 1 confirming Azerbaijan's previously articulated position that it "will not create opportunities or conditions allowing foreign countries to use its territory against neighboring countries," RFE/RL reported.
Meantime, Vafa Guluzade, top advisor to at least three Azerbaijani presidents (1991–99) predicted that the United States intends to destroy and dismember Iran because it is an anti-American state that is "ignoring UN resolutions, which makes war inevitable," day.az reported on April 3. Mr. Guluzade went on to warn that "since the U.S. is trying to weaken regional states, [in the future] Turkey might end up in the same situation as Iran today."
Georgia's NATO membership increasingly likely
On March 30, Mr. Bryza confirmed that the United States and Georgia share a common goal: "Georgia's membership at a right time in NATO," Civil Georgias reported. The "right time for Georgian membership in NATO is when Georgia has completed all of its reforms . . . and has continued what it's been doing now for several month, which is pursuing constructive and peaceful [efforts] to resolving separatists conflicts in Abkhazia and South Ossetia within Georgia."
NATO Secretary General Jaap de Hoop Scheffer had said on February 9 that the alliance should be "coming closer to honoring the ambitions of Ukraine and Georgia." Both chambers of the U.S. Congress have voted to support the two countries' accession to NATO financially.
President Mikhail Saakashvili of Georgia in turn recently promised to more than double Georgia's force in Iraq to 2,000, which would make it one of the largest contingents in the U.S.-led coalition there. Mr. Saakashvili is optimistic that Georgia could become a NATO member by 2009.
Cory Welt from the Washington-based Center for Strategic and International Studies told the Reporter that there has been more enthusiasm for Georgian membership lately. "They still have a lot to do, but the 2009 possibility is more realistic now."
Last month, Georgia's parliament voted 160-0 in favor of joining NATO. This policy is supported by most Georgians, but has caused lingering tensions with Russia. In apparent reference to their northern neighbor, Mr. Bryza assured Georgians last week that "no country that is not a member of NATO has any say over Georgia's future within the alliance."
Neither Armenia nor Azerbaijan has expressed a desire to join the alliance yet, but Mr. Welt believes that the two will likely "reassess their current position in light of Georgia's membership."