First published on June 30, 2007 in the Armenian Reporter
Retired diplomat is to take temporary charge of the U.S. Embassy in Yerevan
by Emil SanamyanWASHINGTON
– The State Department has dispatched a veteran U.S. diplomat to lead the Embassy in Yerevan for the next few months as the acting chief of mission is preparing to depart.
Ambassador Rudolf Perina will be in Armenia not as ambassador but as chargé d'affaires ad interim. Amb. Perina's arrival, which is expected on July 10, was welcomed by former ambassador to Armenia John Evans, who told the Armenian Reporter that Mr. Perina was "a good friend" for whom he had "highest respect."
"The U.S. Embassy will be in good hands," added Mr. Evans, who was forced to leave Yerevan on September 10, 2006, and retire from the Foreign Service because of remarks he made in 2005 affirming the Armenian Genocide.
Ambassador Richard Hoagland remains the formal ambassador-designate for Armenia, even though his candidacy has been blocked in the Senate since last September. A chargé d'affaires leads a diplomatic mission in the absence of a confirmed ambassador.
Sources familiar with details of the appointment suggested that Mr. Perina will remain in Yerevan for six and 10 weeks. For Mr. Perina, this would become a second such assignment. From May to September 2006, he led the U.S. Embassy in Moldova until the arrival of a permanent ambassador.
Mr. Perina's appointment is intended to ensure the smooth handover of responsibilities from outgoing chargé d'affaires Anthony Godfrey to Joseph Pennington, a State Department official who will be arriving in Armenia later this summer. Mr. Pennington, like Mr. Godfrey, would be deputy chief of mission if an ambassador were present.
Mr. Perina has been called back from retirement after a 32-year career with the Foreign Service. Mr. Perina served as the State Department's deputy director for policy planning (2004–2006), U.S. special negotiator for Karabakh (2001–2004), and ambassador to Moldova (1998–2001).
"By appointing Ambassador Perina as chargé d'affaires, the State Department took into account his rich experience and knowledge of Armenia as well as his personal and business ties with top Armenian leaders, which will contribute to continuity in our bilateral relations with Armenia," a U.S. Embassy spokesperson told RFE/RL.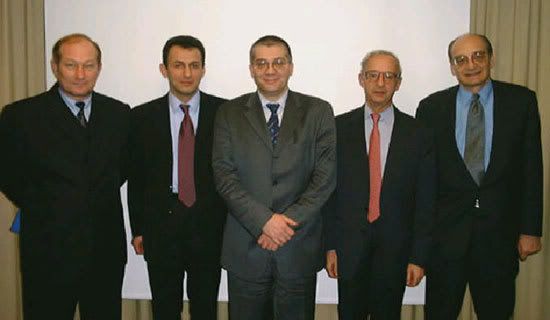 Caption: Amb. Perina on right with fellow Minsk Group co-chairs Nikolay Gribkov (1st from left) and Henry Jacolin (2nd from right) and then–Armenian and Azerbaijani deputy foreign ministers Tatul Markarian (2nd from left) and Araz Azimov (center). Mr. Markarian has since been appointed to lead the Armenian Embassy in the U.S. November 26, 2002. Photo: Geneva Center for Security Policy.