First published in the Armenian Reporter on May 19, 2007
NEWS ANALYSIS: Local control, split in diminishing protest electorate decisive for Republican victory
By Emil Sanamyan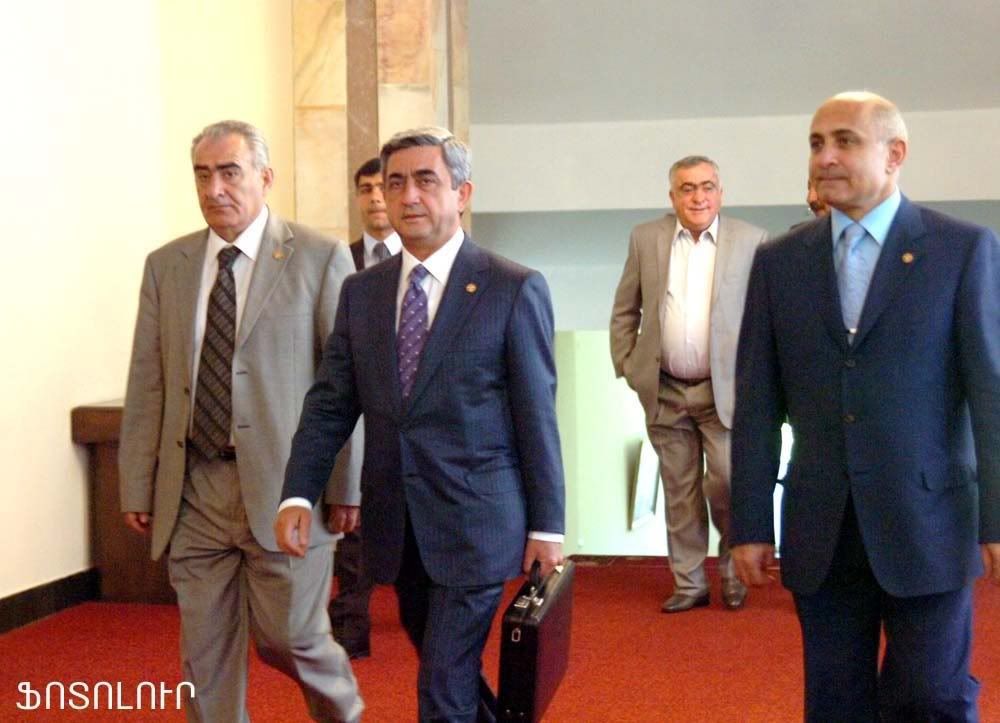 WASHINGTON
– Discussion of the just concluded parliamentary election in Armenia has focused primarily on its conduct.
But while legality of the process is unquestionably important, elections themselves at their core remain a contest between political forces for power. And political forces come to this day with various levers, both hard and soft.
Grassroots, money, organization, as well as powers of persuasion, credibility and promise are all factors that in combination bring victory to some and defeat to others.
The Republican phenomenon
Armenia's ruling party began in 1989 as a small self-defense force with a big name. The "Army of Independence" was created by members and sympathizers of the National Self-Determination Union (AIM) then as now led by Soviet-era dissident Paruir Hairkian.
As the first post-Soviet Armenian government began to execute the Soviet government's order to disband the military, the "Army" became the Republican Party (HHK) led by another former dissident Ashot Navasardian.
The main opposition force in 1991, AIM garnered about one percent of the national vote in 2003 and sat out this year's election. In the meantime, HHK, a small opposition force in the early 1990s, has grown into the largest political party in Armenia.
What is its secret?
First, it did not abhor power. In 1995 parliamentary election, it became a marginal part of the Hanrapetutiun Bloc, dominated by the Armenian Pan-National Movement (HHSh), which swept that vote in a more decisive and substantially less democratic fashion than HHK did this year.
Second, while in power HHK retained its core principles that reflected Armenia's traditionally conservative mainstream. In 1997, HHK together with Vazgen Sargsian's faction within HHSh left the ruling Bloc over its leaders' intention to agree to serious compromises in Artsakh.
Finally, once in power and led in turn by Vazgen Sargsian, Andranik Margarian and now Serge Sargsian, HHK went about consolidating its influence and entrenching it locally. While opposition parties dreamt about a revolution in the streets of Yerevan, HHK swept municipal elections virtually unopposed, established a large youth wing and recruited many of the country's biggest businessmen.
Controlled protest
In the 1990s, in Armenia as in other post-Soviet states the economic decline, accompanying breakdown in the rule of law and governments' inability or unwillingness to manage these challenges resulted in a large protest electorate. This large stratum included people with different priorities. For many it was overcoming poverty or re-gaining lost political influence, for others – a credible democratic government.
In Armenia, starting in 1996, and again in 1998, 1999 and 2003 presidential and parliamentary elections, the existence of this protest electorate resulted in strong challenges to incumbent governments. Inevitably, these challenges were led by the so-called counter-elites – former Prime Minister Vazgen Manukian, former Soviet Armenian leader Karen Demirchian and most recently his son Stepan Demirchian.
But in recent years, as economic growth began to benefit an increasing number of Armenians, the protest electorate began to shrink. For a growing number of people, their personal well-being began to be connected directly or indirectly to the powers that be, also affecting their voting preferences.
For many of those still in poverty or otherwise at odds with their local Republican-dominated bosses the office of President Kocharian offered an alternative: the Prosperous Armenia Party led by simultaneously simple, powerful and humanitarian Gagik Tsarukian. In a fairly brief time he was able to fill much of the void left by Karen Demirchian.
The fact that opposition parties ran without forming electoral alliances had at least one positive results – it provided citizens with more choice than ever before and probably helped the turnout. But in the end, together with 15 percent of the vote that went to Tsarukian, this helped dilute the still significant protest vote – 25 percent of all of the votes went to mostly opposition parties that failed to overcome the five percent threshold.
With exception of the ARF Dashnaktsutiun, Orinats Yerkir (Country of Law) and Heritage, the three parties that did win seats in parliament, as well as the United Labor Party (MAK), the other political players appeared to count not on turning out the vote, but their residual popularity, some form of vote falsification or streets protests.
Making political history
Gurgen Arsenian's MAK was one of many businessmen-established entities to run in 2003 parliamentary elections. But unlike several other richer individuals, Mr. Arsenian focuses on a single goal – winning over 60,000 people to cast their votes for his relatively unknown party so it could overcome the five percent threshold and enter the parliament. And it did.
MAK set the same goal in this year's elections and it succeeded, but with the higher overall voter turnout this voting bloc now amounted to only 4.2 percent of the total and Mr. Arsenian was left out of Parliament.
MAK, along with Shavarsh Kocharian's small National Democratic Party (it received under one percent of the vote) and even more surprisingly, Artashes Geghamian's National Unity Party (3.6 percent) made Armenian political history by publicly admitting that they were defeated.
This was indeed unlike any of the past elections.