First published in May 19, 2007 Armenian Reporter
From Washington, In Brief
By Emil SanamyanU.S.: Armenia election step in right direction
As in the past, the State Department aligned with the OSCE monitoring mission's assessment on the Armenian election. Asked by the Reporter for comment, Deputy Spokesperson Tom Casey said during the May 14 Department briefing that the United States "congratulate[s] the Armenian people on their parliamentary elections and share[s] with the international observers who were present the view that the election infrastructure has been greatly improved and that this is a step in a right direction towards meeting international standards."
Mr. Casey added that the U.S. hopes that the Armenian government "aggressively investigates allegations of electoral wrongdoing" and prosecutes any violators. "So all in all, I think this is an improvement over past elections; though certainly if you look at what the observers said, […] there is still some way to go before you would have an election that fully meets all international standards," he said.
In last month's message to Prime Minister Serge Sargsian, President Bush said that good electoral conduct would "serve as a serious stimulus for developing relations between the two countries."
Also last month, Assistant Secretary of State Dan Fried, citing past U.S. criticism of Armenian elections, said that "we don't expect to go from deeply flawed to perfect, but we do expect to see substantial forward progress."
Asked following the briefing why the State Department, unlike the European Union, avoided using the terms "free" and "fair" for the election, Mr. Casey said that the U.S. was just going by the OSCE preliminary report, withholding final judgment until after that organization's final report is issued.
But later that day the State Department web site www.state.gov headlined with "U.S. Welcomes Fair Conduct of Armenia Election."
GOP congressmen urge colleagues to "join Reagan" in Genocide affirmation
Citing a passage from the 1981 speech by President Reagan that referred to the Ottoman Armenian experience as "genocide," Congressmen Joe Knollenberg (R-Mich.) and George Radanovich (R-Calif.) urged their Republican colleagues to co-sponsor the House Resolution 106 affirming the U.S. record on the issue.
The text of the May 14 "Dear Colleague" letter circulated by the two of the resolution's six main co-sponsors was made available by USAPAC. At this time 53 of the resolution's 193 supporters are Republicans. The House Democratic leadership has yet to schedule formal consideration of the measure.
Past affirmation supporter Gephardt now employed by Turkey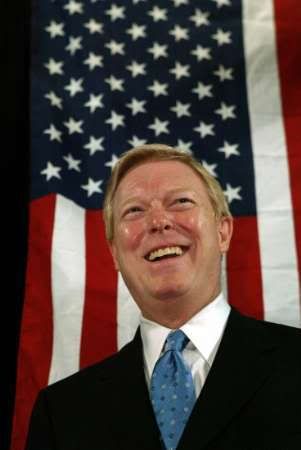 In their May 8 "Dear Colleague" Members of Congress Frank Pallone (D-N.J.), Adam Schiff (D-Calif.) and Anna Eshoo (D-Calif.) reminded fellow Democratic Representatives that one Turkey's main lobbyists opposing the House Resolution was himself a supporter of the Armenian Genocide affirmation.
The former Democratic congressional leader Richard Gephardt (D-Mo.), who made an unsuccessful bid for presidential nomination in 2004, now works at a DC lobbying firm DLA Piper hired by the Turkish government to lobby the Democratic congressional majority.
As part of the effort the firm distributes Genocide denial literature, including a book co-authored by Justin McCarthy, to Congress members. A copy of the book, which presents the genocide as an "Armenian rebellion," was made available to the Reporter.
But in his September 12, 2000 letter Mr. Gephardt urged the then House Speaker Dennis Hastert (R-Ill.) to promptly schedule a vote on an earlier congressional Genocide resolution, expressing his "commit[ment] to obtaining official U.S. Government recognition of the Armenian Genocide." ANCA noted in its release that the Mr. Gephardt had repeatedly backed affirmation efforts since the 1980s.
Clinton Administration official laments deterioration in U.S.-Turkish relations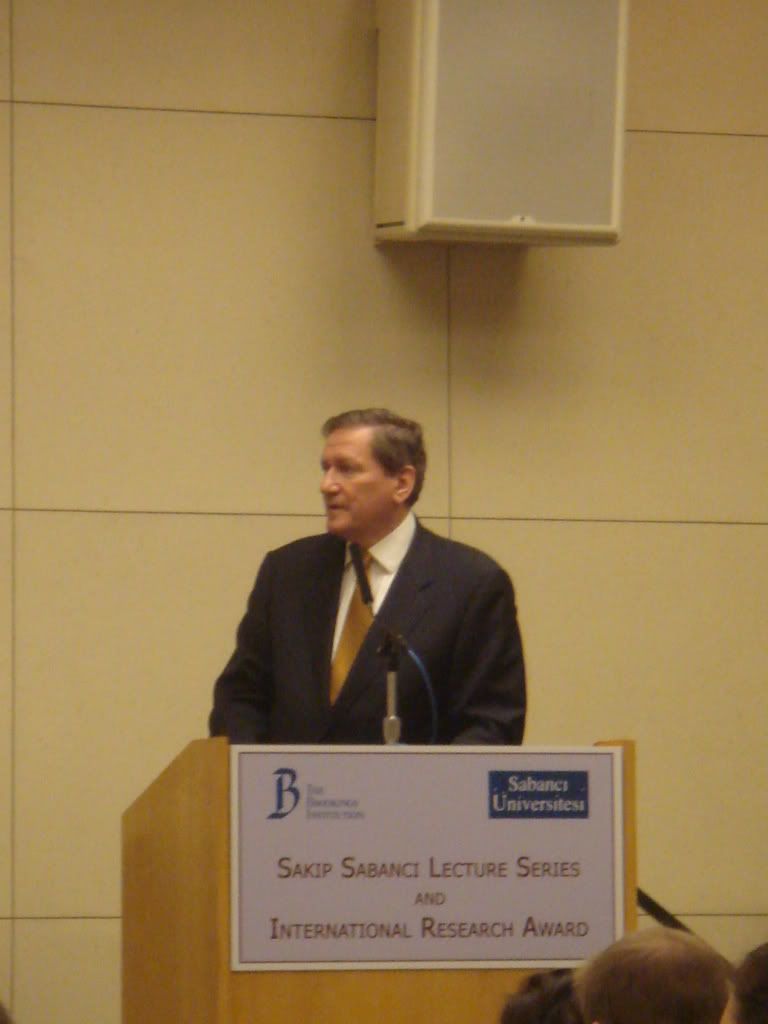 "The deterioration in U.S. – Turkish relations since 2003 [Iraq war] is deeply distressing to all of us who have worked so hard to strengthen our friendship," said former senior Clinton Administration official Richard Holbrooke at the May 10 Brookings Institution lecture sponsored by Turkey's Sabanci Group, a large business conglomerate.
Amb. Holbrooke appeared to blame the Bush Administration for "not communicating sufficiently clearly with Turkey" on Iraq issues resulting in persistent tensions. He described Turkey as an "indispensable front-line state against extremism" and said he believed "in a future for Turkey as an integral part of the Western world, its alliances and its institutions, including eventually the EU."
While saying that "it is entirely up to the people of Turkey, acting democratically, to decide how to proceed both internally and with respect to the dangerous neighborhood in which Turkey lives," Amb. Holbrooke cautioned Turkey on its recently intensified ties with Russia and Iran. On Iran in particular, he expressed a hope that "rumors that one hears [about Turkish-Iranian cooperation] are not true."
Referring to Turkey's threats to invade Iraqi Kurdistan, Amb. Holbrooke recalled that the Clinton Administration approved a "limited" Turkish operation in 1995, but that things have changed since then. He said that while he is not "advocating" Iraqi Kurdish independence, it needs to be acknowledged that most of the Kurds in northern Iraq want it.
Amb. Holbrooke also briefly alluded to Turkey's issues with Armenia, which he said are marked by "the burden history still places upon that ancient relationship."
While expressing a wish "not to interfere in [Turkey's] internal political issues… at a fragile moment in [its] history," Amb. Holbrooke emphasized that as Turkish political process should "demonstrate conclusively that in Turkey… the rule of law is paramount."
The Turkish military recently forced the government to hold an early election prompting a warning from the European Union but eliciting no reaction from the Bush Administration (see April 28 Reporter for the relevant analysis.) The early general election is now scheduled for July 22.
A former U.S. Ambassador to the United Nations, who in the 1990s led the U.S. effort to deal with conflicts in the Balkans, Amb. Holbrooke has long been seen a top pick for the Secretary of State in a potential future Democratic Administration.
Caucasus experts gather in Washington
On May 10-11, the Kennan Institute at the Woodrow Wilson Center for International Scholars hosted several dozen experts from U.S., Europe and Russia for an inter-disciplinary conference on the Caucasus chaired by the retired U.S. Ambassador Richard Miles.
Amb. Miles, who was the first U.S. Ambassador to Azerbaijan (1992-93) and later to Georgia (2002-05), as well as another former U.S. government official in the audience Wayne Merry noted that there is very little government-academia cooperation on the subject of the Caucasus.
Discussions of the wider region, both the independent states of the South Caucasus and the Russian North Caucasus included consideration of politics and economics together with anthropology and sociology. Speaking at a concluding session, Tom de Waal of the London-based Institute for War and Peace Reporting (IWPR) described the Caucasus with its intersection of cultures as a "post-modern region" where no overarching theory explains particular behaviors.
Many discussants highlighted the persistence of the Soviet past in the region. Sufian Zhemukhov from Russia's Kabardino-Balkaria argued that the fall of the Soviet Union resulted in the "loss of future" for many in the Caucasus, leaving a vacuum that has not been filled by either the West or neighboring Turkey or Iran. Georgi Derluguian of the University of Chicago suggested similarity with the French colonial Africa, with individuals losing opportunities for social mobility and as a result frequently turning to extremism.
De Waal noted that Russia's influence on the Caucasus, while receding, remains unparalleled by any other power. (See the next Reporter for an interview with de Waal about his 2001 book on the Karabakh conflict, which he terms the region's "biggest problem" and his view of what to do about it.)