First published in the Armenian Reporter, June 2, 2007
From Washington, In Brief
By Emil Sanamyan

Bush announces new sanctions against Sudan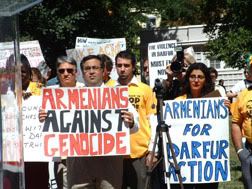 Citing continued outrages in the Darfur province of Sudan and its government's opposition to introduction of effective international peacekeeping, President George W. Bush on May 29 announced a set of new sanctions against Sudan, international media reported. The violence in Darfur is believed to have claimed lives of hundreds of thousands and as been called Genocide by the Bush Administration.
The new measure bars 31 Sudanese-controlled companies from doing business with U.S. There are also sanctions against four Sudanese individuals, including two senior officials. It is unclear how significant of an impact the sanctions might have on Sudan whose main source of revenue comes from crude oil sold primarily to China and other Asian states.
Sen. Joe Biden (D-Del.), who chairs Senate Foreign Relations Committee, welcomed the new sanctions but said they were not sufficient: "We should enforce a No-Fly Zone, impose multilateral sanctions through the U.N., lead negotiations among all the parties for a lasting peace settlement, find the forces for a peacekeeping mission, and, if necessary, commit U.S. troops on the ground."
House Foreign Affairs Committee Chairman Tom Lantos (D-Calif.) called Pres. Bush's move "a dollar short and months late." The congressman led congressional efforts to qualify Darfur violence as Genocide. At the same time, Rep. Lantos has not taken any action on the House Resolution 106 that affirms U.S. record on the Armenian Genocide and was referred to Lantos' Committee last January. His staff has refused to comment on the matter.
Bush's announcements of sanctions against Sudan and, on the next day, of a new $30 billion program to fight AIDS in Africa come shortly before the June 6-8 G8 Summit that is expected to focus on international trade and climate change. Reuters reports that the United States and Britain are considering expanding existing U.N. sanctions against Sudan, but have yet to receive the necessary support from China and Russia.
Eleven members of Congress go on "study tour" of Turkey
Six U.S. Congressmen and five Senators visited Ankara and Istanbul from May 26-June 1, Turkish NTV reported. During May 28 press conference, members of the delegation Sen. Ben Nelson (D-Neb.) and Rep. Ed Whitfield (R-Ky.) discussed their meeting with Prime Minister Recep Tayyib Erdogan.
The legislators reiterated U.S. opposition to a potential Turkish military operation in northern Iraq and suggested that the recent violation of Turkey's airspace by U.S. F-16s "had no secret intention" and should not cause problems in relations, Turkey's Cihan news agency reported. According to Rep. Whitfield "there was also discussion about the Armenian resolution that has been introduced in the U.S. Congress and if it passed the impact that it would have on the Turkish people."
The trip was organized by the Congressional Study Group on Turkey (CSGT) established in 2005 through the U.S. Association of Former Members of Congress. According to the Turkish Coalition of America (TCA), it is underwriting CSGT expenses in 2007-2008. TCA itself was established last February and is led by former senior staff of the American Turkish Council and the Assembly of Turkish American Association, two groups that have long lobbied against the Armenian Genocide affirmation.
In addition to Rep. Whitfield, who co-chairs the Congressional Turkey Caucus, congressmen taking part included Reps. Dan Burton (R-Ind.), Stephen Cohen (D-Tenn.), Virginia Foxx (R-N.C.), Russ Carnahan (D-Mo.) and Rep. Luis V. Gutierrez (D-Ill). Reps. Carnahan and Gutierrez have both co-sponsored the House Genocide resolution (H. Res. 106).
Names of the other four U.S. Senators were not available at press time.
Greek American groups call for Genocide resolution passage
Reps. Carolyn Maloney (D-N.Y.) and Gus Bilirakis (R-Fla.), co-chairs of the Congressional Caucus on Hellenic Issues, called on fellow congressmen to co-sponsor the House Resolution 106, which is already supported by 196 members, but is yet to receive congressional consideration.
A Dear Colleague letter, circulated by Congresswoman Maloney on May 23, argued that "the United States must stand up for human rights everywhere by renewing its commitment to prevent similar atrocities and by acknowledging that the Armenian Genocide is a historical fact."
The Hellenic Caucus has more than 125 members, many of whom are also members of the 152-member Armenian Caucus and have already co-sponsored H. Res. 106. The American Hellenic Institute and the United Hellenic American Congress have also called for the adoption of H. Res. 106, ANCA reported on May 25.
State Department responds to congressional concerns on Karabakh
A botched passage in the State Department's 2006 Human Rights Report on Armenia continues to generate government correspondence. The Department made another effort to set the record straight in its May 24 letter to Rep. Joe Knollenberg (R-Mich.), made available to the Reporter.
As a reminder, that report first released in March incorporated Azerbaijan's propagandistic lingo when describing the Nagorno Karabakh Republic, and claimed that Armenia "occupies" that Armenian republic. While U.S. officials admitted that the wording was wrong, the Department eventually opted not to correct it (see this column in the April 28 Reporter).
As was also reported in this column (May 12 Reporter), Rep. Knollenberg along with the fellow co-chair of the Congressional Armenian Caucus Rep. Frank Pallone (D-N.J.) sent a letter to the Secretary of State expressing their concern with the wording.
The State Department response signed by the Assistant Secretary of State for Legislative Affairs Jeffrey Bergner acknowledged that Nagorno Karabakh, "as well as large portions of surrounding territory" are not "occupied by Armenia," as is claimed by Azerbaijan, but rather that "ethnic Armenian forces supported by the Government of Armenia control" them.
"Ethnic Armenian forces" is a previously used euphemism for the Defense Army of the Nagorno Karabakh Republic, which while not formally recognized is indeed supported by Armenia.
U.S. agency says "no plans" to support Armenia rail bypass
The Overseas Private Investment Corporation (OPIC) President Robert Mosbacher told the House Foreign Affairs Subcommittee on May 24 that his agency has "no plans" to support an Azerbaijani government-initiated project to build a railroad bypass around Armenia. Mosbacher made the comment in response to a question from Rep. Brad Sherman (D-Calif.), who chairs the Subcommittee on Terrorism, Nonproliferation and Trade and whose office reported the news.
The legislation passed last year prevents U.S. Export-Import Bank from funding the bypass, which generated little U.S. government or commercial interest. The project, estimated at more than $400 million, is part of Azerbaijan's efforts to keep the Turkish-Armenian border closed. By building the bypass from Georgia to Turkey, Azerbaijan is seeking to alleviate concerns in Turkish regions that are most affected by that country's closure of the border with Armenia.
Both OPIC and ExImBank provided public funding for the U.S.-backed Baku-Ceyhan oil pipeline, which helped create a more expensive route for taking Caspian oil to international markets than existing or alternate routes. The Azerbaijani government is likely to use some of its oil revenues to pay for the railroad bypass which is expected to take two years to complete.
Congressional Committee Approves Bill on International Nuclear Fuel Bank
On May 23, the House Committee on Foreign Affairs adopted the International Nuclear Fuel for Peace and Nonproliferation Act (H.R. 885) that authorizes $50 million in funds to establish the bank to be administered by the International Atomic Energy Agency (IAEA).
According to the Committee release "the bank would ensure that countries seeking the benefits of nuclear energy will not have to develop a capacity to produce their own nuclear fuel, which can also be used to produce nuclear weapons." The funds authorized would "only be available for two years, pending another $50 million pledged from other sources." The Administration is said to support the bill, but as of now it is unclear how quickly, if at all, a functioning fuel bank could be established.
A reliable international source of nuclear fuel might potentially be good news for Armenia, which currently relies on Russia for its supplies. On May 30, President Robert Kocharian reiterated Armenia's desire to build a new nuclear power plant before the existing reactor is decommissioned over the next decade. Armenia has initiated preliminary discussions with Russian and U.S. officials on the issue.