First published in the Armenian Reporter on June 23, 2007
From Washington, in Brief
by Emil SanamyanPolls: Armenians trust China over U.S.; prefer independence to regional alliances
A study jointly commissioned by www.worldpublicopinion.org and the Chicago Council on Global Affairs, released in Washington on June 14, found that 46 percent of respondents in Armenia trust China "to act responsibly in the world"; only 39 percent trust the United States to do so.
The surveys found more trust in the United States among people in Israel (81 percent), Australia (59), Poland (51), and Ukraine (49), and less trust among people in France (28 percent), Russia (20), Peru (17) and Argentina (less than 16).
Meanwhile, Armenians more than their former Soviet counterparts prefer living "in their own state without unifying with any other state or joining alliances of states," according to a survey of six ex-Soviet states conducted by the All-Russian Center for the Study of Public Opinion (www.wciom.ru), released on June 18. (See this column in the June 16 Reporter for earlier findings.)
Of 1,023 respondents in Armenia 41 percent preferred this option; 24 percent wanted Armenia to join a Russia-dominated alliance; 23 percent, to join the European Union (EU); and 12 percent, to remain in the existing Commonwealth of Independent States (CIS).
The results show a significant change in popular attitudes from the 1990s, when a closer alliance with Russia was believed to be much more popular. Still, a U.S.-funded opinion poll conducted last year showed that large majorities wanted Armenia both to stay a CIS member and join the EU, probably seeing such arrangements as not contradicting the country's independence.
Armenians' EU aspirations were found to be similar to those in Belarus and Ukraine, at 23 and 22 percent respectively, with respondents in other countries less interested. Most interested in living in a new Russia-dominated union were Kyrgyz respondents (62 percent).
Washington think tanks rate the world
U.S. studies that rank countries worldwide by various categories continue to proliferate.
A relatively new "Failed States Index" by Foreign Policy magazine and the Fund for Peace (www.fundforpeace.org) most recently issued on June 17 determined that 129 of 177 countries studied were failing to one degree or another judged against political, social and economic benchmarks, such as "Legacy of Vengeance-Seeking Group Grievance or Group Paranoia" and "Intervention of Other States."
In that study, Armenia was 112th from the bottom – also failing but to a less extent than its neighbors Turkey (92), Azerbaijan (62), Georgia (58), and Iran (57). Predictably, Sudan, Iraq, and Somalia were put at the top of the failed states list, with Norway, Finland, and Sweden doing the best.
And on June 14, Freedom House (www.freedomhouse.org) issued its "Nations in Transit 2007" report, which focused on events in post-Soviet states through the end of last year. The study broadly determined that there was a "crisis of governance" in Central Europe and "increased repression" in the ex-USSR.
The Armenia section, prepared by Anne Walker of the Economist Intelligence Unit, concluded that the status of Armenia's independent media and national democratic governance worsened in 2006, with overall Democracy Score climbing to 5.21, worse than at any point since 1999. [The Armenian Reporter's editorial for May 12 discussed shortcomings in Freedom House's information-gathering and evaluation process and argued that the conclusions regarding the media in Armenia were incorrect.]
Georgia interested in nuclear energy; looks to Armenia's plans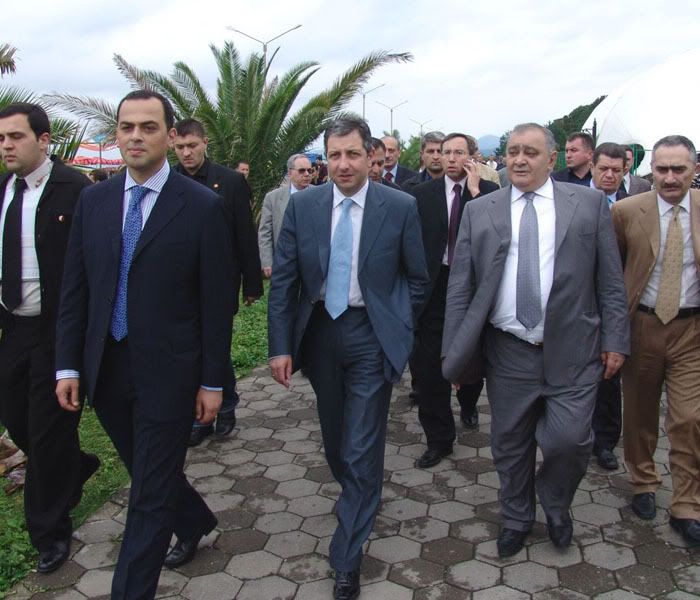 Armenia's northern neighbor has expressed interest in "the possibility of constructing a civil nuclear reactor in Georgia," according to that country's ambassador to France, Mamuka Kudava, www.civil.ge reported on June 15. The issue reportedly came up during the Georgian president's visit to France last week, with French leaders reportedly ready to study it.
But commenting on the report, Georgian Prime Minister Zurab Nogaideli linked his country's nuclear energy plans to those of Armenia. "The issue concerns possible replacement of the old Armenian nuclear reactor with the new one," he said and added, "So talks about where this new reactor will be located – it will be in Armenia, or in Georgia, or whether it will be constructed at all – are too early."
Armenian leaders have described building a new nuclear power plant as a priority and have began preliminary discussions on the issue with the U.S. and Russian governments.
NKR representative to Azerbaijani ambassador: Time travel is not possible
"For Nagorno Karabakh to go back to being part of Azerbaijan, somebody needs to bring back Joseph Stalin, who gave Karabakh to Azerbaijan in 1921 against our will, and the Soviet Union, which forcefully kept Karabakh inside Azerbaijan," NKR's Washington representative Vardan Barseghian said in a letter to the editor published by the Washington Diplomat (www.washdiplomat.com) on June 8.
The letter came in response to the newspaper's interview with Azerbaijan's ambassador to the United States Yashar Aliyev, where he suggested that "there is no disputed territory between" Armenians and Azerbaijanis. "There is just aggression on the part of Armenia toward my country.... They are trying to take it from us," Amb. Aliyev complained.
The Washington Diplomat is a newspaper dedicated to the U.S. capital's diplomatic corps.