Originally published in July 14, 2007 Reporter.
Will the Armenian-Azerbaijani dialogue continue beyond June 28?
One of the participants Ludmila Grigorian recounts the day and looks to the future
Editor's Note: For nearly a year and a half, the Ambassadors of Armenia and Azerbaijan to Russia, Armen Smbatian and Polad Bul-bul-ogly, developed and lobbied the idea for a joint trip to Karabakh and capitals of Armenia and Azerbaijan. This unique initiative finally materialized on June 28, and, in addition to the Ambassadors themselves, it involved four other prominent individuals from each side.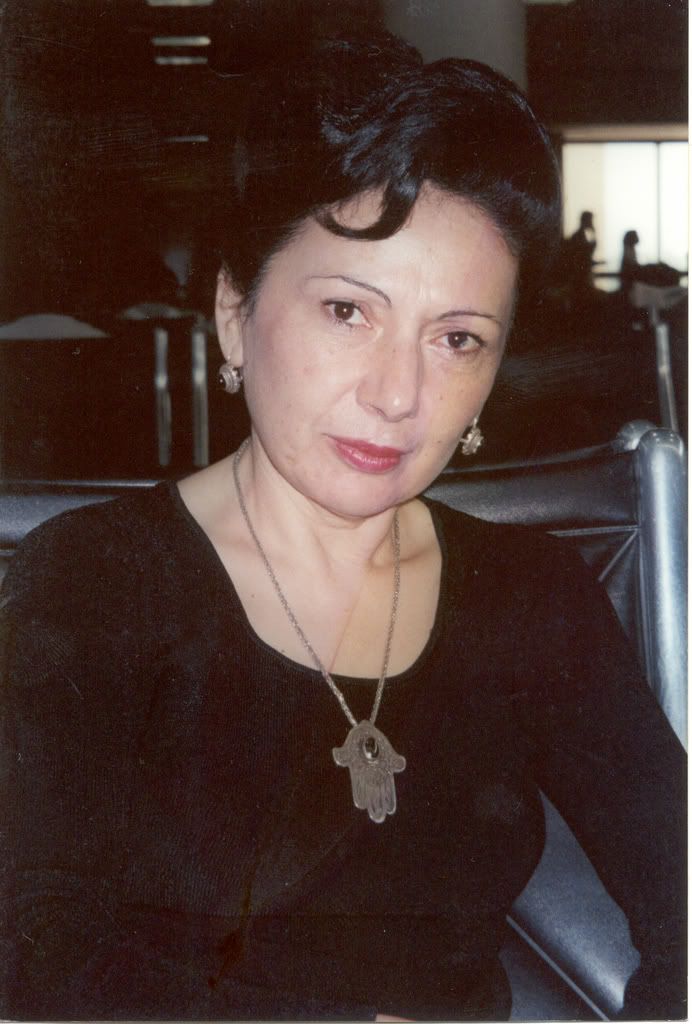 Dr. Ludmila Grigorian, a physician and civic activist from Stepanakert, was the only female participant. She shared her impressions with Hrachya Arzumanian on July 5, 2007 in Stepanakert.
HA: How did you first become involved in civic activism and human rights issues?
LG: I was born in a family of veteran Communist Party members and our home was always full of conversations about Karabakh, its fate, its future. So for me civic activism was very natural and somewhat of a norm. My husband and I were living in Leninakan [Ed. – now Gyumri] when the Karabakh Movement began in early 1988, and we moved to Stepanakert to be in the middle of it all.
I was certainly not a public persona or a politician back then and my participation in this Movement was more a realization of my spiritual drive and principles. Our home was near Stepanakert's main square, which became the focal point of non-stop demonstrations and strikes. Initially, I saw my role as assisting those taking part in the demonstrations, and I thought that politicians should be left to deal with serious issues. But step by step, I began to be drawn into the Movement, becoming an active participant in various meetings and public addresses.
Then the war came along with its brutality. The loss of my husband, my own serious injury and subsequent treatment in various cities and lengthy rehabilitation - the story of my family is typical for Karabakh families that bore the brunt of the war. Following the rehabilitation, I returned to Karabakh to head a [frontline] field hospital for the Army's assault regiment, then to become the Army's chief therapist. Currently, I am chief of therapy in the NKR Health Ministry.
HA: Why do you think you were invited to take part in this initiative?
LG: Perhaps it was my independent image – I never parroted anyone. I can collect myself in difficult moments and be absurdly brave at times. My experience in the independence movement from its very first days and my war record - all these factors taken together probably led to the [NKR] leadership deciding to suggest me for participation in this initiative.
I do believe that I am one of those people who have the moral right to speak in the name of those who saw that war, those who fought in it and lost their loved ones in it. I think I do have the right to really say what war is while sincerely wishing for peace.
And I did have previous contacts with Azerbaijani intelligentsia through the Helsinki-92 Initiative - starting in 1993 I participated in meetings held in the United States, Stepanakert and Vanadzor, so personally I was ready for such contacts.
HA: How was the June 28 meeting arranged?
LG: Just a week earlier I got a telephone call. They told me that, possibly, such a meeting could take placed and asked if I could take part in it. I agreed, even though I have to tell you that to the end I doubted that the mission would go through.
We met in Stepanakert. The meeting's tone was set by Ambassadors Polad Bul-bul-ogly and Armen Smbatian. It turned out that several participants have known each other for some time, so it helped set an atmosphere of good will right from the start.
After a quick breakfast, we went to meet with NKR President Arkady Ghoukasian. I want to give credit to our President for his diplomatic tact. Azerbaijani participants spoke first noting that the current format of the official peace negotiations does not provide for developing contacts between the societies and that the initiative was intended to fill that gap.
President Ghoukasian welcomed the initiative. He said that compromises are inevitable as part of any settlement, but compromises could not be made to an enemy. For compromises to become possible there must be more communication, good will and trust between the sides. But so far Azerbaijan and its various representatives have flatly refused talking with Nagorno Karabakh. In conclusion, Pres. Ghoukasian pledged his support for such initiatives in the future.
I think these points were well taken by the Azerbaijani delegation.
Following the meeting there was a trip to Shushi, where Polad [Amb. Bul-bul-ogly] visited a mosque and his father's home. At the mosques we, including the Azerbaijani delegation, saw preparatory works underway for its restoration. Moreover, Polad suggested that should our initiative be approved, he would request that Azerbaijani masters be allowed to take part in restoration works.
Then we walked down to the home of the Ambassador's late father [prominent folk singer Murtuz Mamedov known as "Bul-bul"] – the old one, where his father was born, and the newer one now occupied by a family displaced from Getashen [under Azerbaijani control since 1991]. Polad talked to the woman living there and as he was leaving shook her hand and said: "Please, continue to live here. When someone lives in a house, it stands. It would have been worse, if no one lived here."
After leaving Shushi we went to the heliport and flew to Yerevan for a meeting with President Robert Kocharian, who welcomed us and talked about the need for such contacts, and that such efforts were long overdue. Then the heads of the Azerbaijani and our delegation once again outlined the initiative.
Pres. Kocharian then suggested that I, as the only representative from Karabakh, should say a few words as well. Without violating the mission's format he in a way let everyone know that no matter the level of the cultural dialogue between Armenia and Azerbaijan, the Karabakh issue cannot be discussed without Karabakh itself. After that meeting concluded on a friendly note, we were taken to the Sergei Parajanov museum which impressed everyone.
Then back to our bus and the plane. We landed in Baku, where we were met by representatives of their Ministries of Foreign Affairs and National Security. The atmosphere was rather calm, even friendly. Baku has changed significantly in recent years, with a lot of construction taking place. Some of the Armenian delegation members remembered the old Baku and that was well received by the Azerbaijani participants.
We went into the presidential palace, with its Middle Eastern extravagance, and were ushered into President Ilham Aliyev's reception hall. We waited for 15 to 20 minutes. The protocol demanded that every one of us stood behind the chair on which we were to sit down. And so we waited standing up until Pres. Aliyev arrived.
When he did, he greeted everyone rather coldly. I think all participants noted the striking difference between the good will of the Armenian Presidents and the cold, even tense reception of the Azerbaijani one.
The meeting began with Polad briefly explaining the point of the initiative. Then it was Pres. Aliyev's turn. Without changing his facial expressions he began to repeat all the formulas that he frequently uses at official meetings. About the seven occupied districts and hundreds of thousands of refugees.
As I was listening, it became clear to me that a continuation of our mission would be quite problematic. I am the type of person who tries to identify a constructive element in any situation, in this case was just flabbergasted. I did not want to speak up aggressively, but did not wanted to pretend either. All I wanted to do at that moment is just to leave quietly.
And it was just then that Polad said: "Mr. President, I wanted a participant from Karabakh to say a few words – Ludmila Grigorian is a doctor, a representative of the humanitarian profession."
So, at that point there was no going back.
"Mr. President," I began, "if it was not for your words and your tone, which differed so much from what we heard from the two of our Presidents earlier, I would just limit myself to a simple greeting. But you decided to go beyond the framework of the mission, and I am forced to say that I am a widow who raised three orphans, that I was wounded, and I don't want to continue that list because it would only distance us from the goals we identified. There is so much pessimism in your voice that it leaves me without a hope for the future – and I am not even talking about resolving our issues, I am talking about having a dialogue between our nations."
Pres. Aliyev appeared to become agitated, but I went on:
"You are talking about hundreds of thousands of refugees, who live in inhuman conditions. I am sorry – but did this rich country, which we just saw, found no funds or a decent place to settle your own compatriots? You are keeping them in reservations, because you cannot afford to provide them with decent living? I am sorry – but years ago not a fewer number of refugees were settled in the Armenian states, and today they are full-fledged citizens. Or perhaps you are keeping refugees in tent cities to use them as a catalyst for anti-Armenian sentiments, to stoke hatred and calls for war?
"We are not overestimating the importance of today's meetings. And I am certainly far from thinking that we can resolve the Karabakh problem in half an hour. All we wanted is to receive your approval for our contacts in the spheres of science and culture. Our presidents supported us, but your pessimistic tone has put an end to the atmosphere of good will that we enjoyed from nine o'clock this morning until now."
There was silence in the room for a while, with everyone unwilling to break the pause. Then Pres. Aliyev said: "Yes, your presidents can afford to be welcoming and friendly because they are talking from the position of victors and not the vanquished."
And at that moment, I have to say I did feel like a victor. I thought to myself: With all the riches his country has, can Pres. Aliyev suffer from the complexes so much that he could not afford us even diplomatic tact and tone?
After several general phrases the meeting was over.
After that we visited the Armenian Church building in Baku. On the outside it is pretty much the same, but inside there is now a state library. They say the government decided to put the library there to prevent it from being destroyed by local nationalists. "We could not save it in any other way," said Polad.
Then there was dinner and informal conversations, during which Polad tried to broach ways that would bring Karabakh under Azerbaijani sovereignty.
"You know," he said, "Azerbaijani oil is really black gold. And I noticed that life is difficult for you [in Karabakh]…" Then he would try to present an optimistic scenario of how the Azerbaijani oil could make Karabakh flourish.
Well, I told the Ambassador, in the early days of the Karabakh Movement in 1988 [after the anti-Armenian violence vegan in Azerbaijan], we decided to cut off all links with Azerbaijan. The Soviet Union was still around, but Karabakh was blockaded, there was a real threat of hunger.
On occasion, Azerbaijan would dispatch food supplies by rail or on trucks to curry favor with us, but we would refuse it. [At the time Stepanakert was controlled by Soviet internal security forces.] There would be trucks with candy, pastries, coffee unguarded in Stepanakert's main square. But not even our hungry kids would come up to these trucks to take the candy.
You could call it insanity, perhaps it was. But that was Artsakh's determination in those difficult years. Azerbaijan could not buy us when we were hungry, when we were facing war and had no weapons to defend ourselves.
Today, we can fend for ourselves, we are supported by the Armenian Diaspora and we are not hungry. So, I told Polad, don't try to bribe us today - this demeans both you and us. Let us try to build our ties on a different basis.
HA: Did the Azerbaijani Ambassador understand your last message?
LG: I think so. During that entire day, he openly expressed his interest in me and by extension in Karabakh. He was trying to understand, how we live, what we think about, what we are striving to achieve.
HA: Will the initiative be continued?
LG: I would not rule it out. I told Pres. Aliyev that while politicians are looking for a political solution, our two nations are drifting further apart from each other, and when a mutually agreed solution is found there will be an issue of whether societies are ready to accept it. What prevents us from preparing our societies today, so that they could help prod politicians towards a solution?
Another possibility is that the contacts will go back to the level of non-government organizations. This seems to be likely, considering the information campaign now underway in the Azerbaijani media [against the Ambassadors' initiative]. From the Armenian side there are no artificial obstacles and we are ready to discuss all the issues raised. But is the Azerbaijani society ready? Those whom I know and with whom we have been in touch during the latest mission are probably ready. There is educated youth that should meet and debate.
The issue is who will prevail in the Azerbaijani society – the initiative's participants and others like them or those who are now organizing the campaign against them in the media. So far, the general atmosphere in Azerbaijan remains tense and intolerant. Such is the Azerbaijani society, its political elite and it is a major problem for all of us.
To sum up: today, we are facing a paradox, when a hand first extended from the Azerbaijani side is also being pulled back from the same side. We are left to wait until the Azerbaijani society is ready for normal contacts and relations, which would without doubt benefit the entire South Caucasus.
P.S. During July 9 State Department press conference held jointly by Deputy Assistant Secretary Matt Bryza and Azerbaijani Deputy Foreign Minister Araz Azimov, the Armenian Reporter asked if there was an effort to build on the June 28 meetings. Mr. Bryza called the visit "a significant development… a major, serious, confidence-building measure," yet "not a breakthrough."
Mr. Azimov said he did not anticipate an immediate follow-up. "The [June 28] visit has not been charged by a concrete task, because it was, again, an initiative of two ambassadors of Azerbaijan and Armenia to Russia." He described it more as an exercise to collect "more objective information" rather than a confidence-building effort the two Ambassadors talked about.
- Hrachya Arzumanian, PhD, is a Stepanakert-based contributor to the Armenian Reporter. Washington editor Emil Sanamyan contributed to this story.