Originally published in July 7, 2007 Armenian Reporter.
Hrant Dink's family urges thorough investigation as murder trial gets underway in Istanbul
By Emil Sanamyan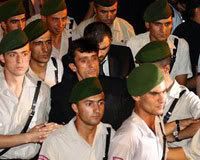 WASHINGTON - Trial of 18 individuals allegedly involved in the murder of Turkish-Armenian writer Hrant Dink began in Istanbul on July 2 in a tense atmosphere, international media and Reporters Without Borders (RWB) reported.
Lawyers for one of the defendants attacked Dink's wife Rakel and daughter Delal as "traitors," as they arrived in court. "You are holders of Armenian passports," one of them reportedly shouted.
The same lawyers later argued that Dink was found to be a "traitor" by the judicial system, when he was found guilty of "insulting Turkishness" in his articles and interviews that mentioned the Armenian Genocide. (Hrant Dink's son Arat and several colleagues are currently facing similar charges for recently republishing one of the late Dink's interviews.)
Meantime, more than 2,000 people gathered around the courthouse with placards and photos of Dink and chanting "We are all Hrant Dink, we are all Armenians."
Dink's family's lawyer Fethiye Cetin urged a thorough investigation that would probe official involvement and charged investigators with ignoring evidence of a wider conspiracy.
Britain's Independent in its July 4 story cited Rakel Dink's appeal to the judge: "You are not of this darkness, please be brave enough to investigate fully so that the end of the trial will mark a new enlightenment for Turkey. I forgive those people, but I want the state to clear this case fully for the future generations."
The accused include Ogun Samast who confessed to shooting Dink in the back on January 19 and Yasin Hayal who claimed earlier that he organized the murder on behest of Turkish security officials. (For details see February 24, 2007 issue of the Reporter.)
But as the RWB reported on July 4, the General Directorate for Security which oversees Turkish police sent a report to the court claiming that Hayal, Samast and others acted on their own initiative without official backing or involvement.
There have been credible reports of such involvement. According to Dink's family and friends, he was threatened by Turkish officials shortly before the murder. A video leaked to the press showed Turkish security officials congratulating Samast after his arrest.
Turkish media then cited Samast's co-conspirators' claims that they were either encouraged by security officials to commit the murder or repeatedly informed them about the plan with no official efforts to protect Dink. Even senior Turkish officials, including Prime Minister Recep Tayyib Erdogan, publicly speculated that elements in Turkey's security establishment may have been involved in the murder.
For now four of the 18 defendants were released at the end of the first hearing, which lasted more than twelve hours. Because Samast was under 18 at the time of the crime, he is facing between 26 and 42 years in prison, Hayal and another defendant, a former police informant Erhan Tuncel face charges that may end in life imprisonment.
The next hearing is planned for October 1.