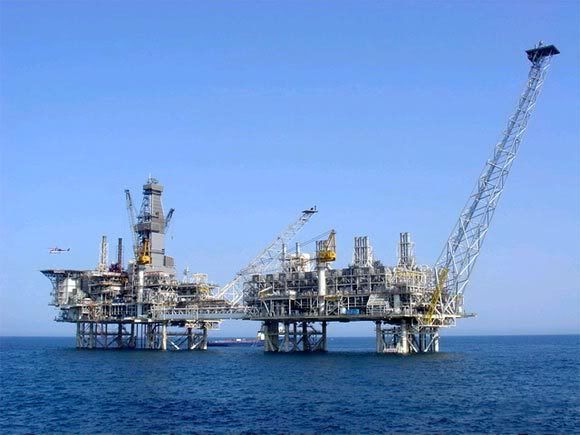 Look at the Azerbaijani Military: Record Spending from Shallow Waters (First in a Series)
By Emil Sanamyan
EDITOR'S NOTE: The Azerbaijani government has repeatedly threatened a new war against Armenians. In the last few years, its rhetoric has also been matched by growing military spending and some weapons acquisition. Armenians are taking notice. Armenia's National Security Strategy identifies Azerbaijan as the most imminent external threat to the country's security. This column, slated to appear with some regularity, will discuss relevant developments in Azerbaijan and their impact on Armenia. The first column focuses on Azerbaijan's military spending.
WASHINGTON, DC – The source of Azerbaijan's growing military spending lies in shallow water, some 100 miles due east-south-east of the capital Baku.
Therein lies a large oilfield first discovered by Soviet geologists, but never fully developed until now. Growing production from that oil field and growing prices for oil have given a terrific boost to the Azerbaijani government's revenue – and much of that revenue is being spent on the military.
In an apparent form of psychological pressure, Azerbaijan's President Ilham Aliyev promised that his country's military spending would soon surpass Armenia's total state spending.
Field of the Commissars
The oil field in question is actually a collection of three fields initially respectively named after the sun (Guneshli), Soviet oilman Mikhail Kaverochkin (now known as Chirag) and the legendary 26 Baku Commissars (Soviet-era heroes of the Revolution, now renamed Azeri) – the last field providing the bulk of new oil production.
The latter two fields have been disputed by Turkmenistan. (The Azerbaijan-Turkmenistan maritime border is still undefined, as is the border with Iran). But this did not stop the consortium led by British Petroleum (BP), which began production (that is, pumping oil) from Azeri-Chirag-Guneshli (ACG) in 1997.
Since then, production has grown from just over 100,000 barrels per day (bpd) in 2001 to close to 500,000 bpd in 2006. BP currently "anticipates production will plateau … at around one million barrels a day by 2009." In other words, after 2009, the oil will begin to run out at ACG.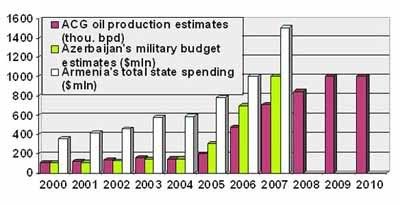 Budget Race
The Azerbaijani government has set up the State Oil Fund to collect profits from ACG. Between 2001 and 2006 the Fund grew from $360 to $900 million – minus some $1.5 billion transferred from the Fund to the state budget.
In January 2006, for example, $600 million was transferred from the fund to the budget just as Azerbaijan announced doubling of its defense budget. While the BP-run ACG is certainly not the sole source of revenue for Azerbaijan, it is the single largest one.
According to BP-Azerbaijan's CEO John Woodward, Azerbaijan's profits from ACG amounted to over $2 billion in 2006, or about one-half of all state revenues. Should world market prices stay at over $50 per barrel of oil, President Aliyev estimates total revenues from hydrocarbon production to amount to $140 billion by 2025 (including profits from ACG as well as other projects), with profits bulging around 2010 and averaging out to about $7 billion a year for the next 20 years.
While the Azerbaijani government does have a tendency to exaggerate, it may be extrapolated that Azerbaijan's military spending could reach as much as $7 billion a year – or more realistically (considering the country's and its ruling elite's other needs) several billion dollars a year: that is, three to five times the current level.
Since President Aliyev made it his goal last year to have Azerbaijan's military spending surpass Armenia's total state spending, such increases are likely. (Armenia's state spending for 2007 is estimated at about $1.5 billion: still 50 percent higher than Azerbaijan's planned military spending.) In pursuit of Aliyev's goal, Azerbaijan is capable of doubling its military spending in 2008 and, possibly, doubling it again in 2009. But Armenia's state spending, which has grown at a record pace itself, is likely to catch up in subsequent years.
Published in the Armenian Reporter, February 17, 2007