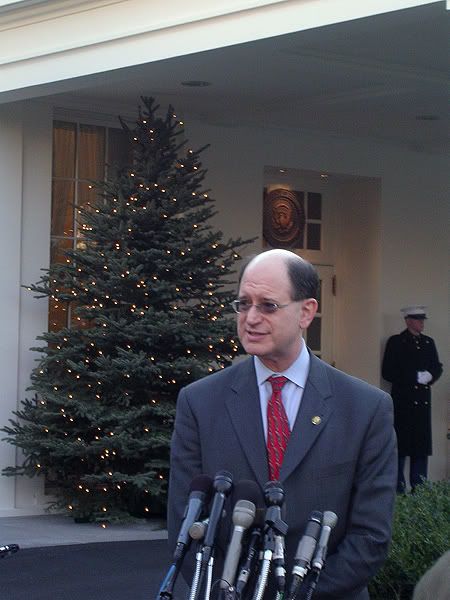 Congressman Sherman says the vote on the Genocide resolution is up to the Speaker
…And Karabakh's future status is up to Armenians
Editor's note: On February 28, a senior member of the House Foreign Affairs Committee Rep. Brad Sherman (D-CA) gave a quick interview to our Washington Editor Emil Sanamyan (see the fact box for information about the Congressman). Below is the transcript of that interview.
Reporter: What are the chances for the Foreign Affairs Committee consideration of H. Res. 106 in the near term?
Rep. Sherman: I think ultimately it will be a decision made by Speaker Pelosi. If either Speaker Pelosi or [Foreign Affairs Committee] Chairman [Tom] Lantos want, [the resolution] goes forward.
Reporter: What is the indication of the position taken by Chairman Lantos?
Rep. Sherman: I think that the chairman's position is not known to me at this time. The Speaker – and she is obviously much more important to this process ultimately [for the resolution] reaching the House floor [to be voted on] – has been supportive of this resolution consistently in her term in Congress. I do know that the State Department is going to try to change Speaker Pelosi's mind.
Reporter: Technically, can this resolution go to the House floor without Committee consideration?
Rep. Sherman: I would think that if Speaker Pelosi made it clear that she wanted it on the floor the Committee would act first. Yet, if for some reason the Committee did not act and the Speaker wanted it on the floor, it will be on the floor
Reporter: What is your reaction to the threats made by Turkish officials over this resolution?
Rep. Sherman: I believe French-Turkish relations improved after France passed the Genocide resolution, and I can't imagine why the outcome would be any different for the United States.
Reporter: And your reaction to the Bush Administration's opposition to this resolution?
Rep. Sherman: History is history, and it doesn't change because certain [military] bases are strategically well-located. And if you want to be the world's only superpower, you have to stay true to the truth. If instead the truth is something you negotiate, it is hard to think that the world is going to acquiesce in [the United States] being the only superpower.
Reporter: You have long supported Armenian-American issues. What are the reasons for that support?
Rep. Sherman: Because the last act of genocide is genocide denial. Because those who ignore history are doomed to repeat it. Those who obscure it are doomed to repeat it. Because Hitler was able to turn to his inner circle and say, "Who remembers the Armenians?" And if we don't remember the Armenians, then Hitler will have correctly observed that ignoring the first genocide of the 20th century paves the way for other genocides.
Finally, because the ultimate Turkish acknowledgement of the Genocide is good for Turkey. Because, where would the United States be if we denied slavery? Or if we denied that we had committed genocide against quite a number of Native American peoples?
I would hope that if not in the resolution itself, [then] in the mix of discussion about the resolution, this resolution will be a humble resolution. With the humility of an Alcoholics Anonymous meeting, where we stand up and say, look, the United States has committed great crimes in its past, and other countries have as well, and it is time to acknowledge what happened in the Ottoman Empire. Not as if we who point it out do so out of a sense of overbearing smugness.
We should not be passing this resolution in smugness. We should be passing it because it is the truth, and because there is a lot of truth about the United States that we also have to acknowledge.
Reporter: Turning to another issue on the minds of many Armenian-Americans – the Karabakh conflict. How do you see it eventually resolved?
Rep. Sherman: I am not aware of any earth-shattering developments regarding Artsakh. It was tantalizing when [the parties] came close to an agreement [in the past].
The United States has got to disabuse the Azeris of the view that they are going to pump a lot of oil and get a lot of power and somehow create new realities. We should be re-doubling our efforts to serve as an intermediary, to try to have this issue resolved.
I think that the people of Artsakh have made it plain that they want to live in an Armenian state. Whether that is an independent, second Armenian state, or whether it is fully incorporated into the Republic of Armenia – it is for the Armenians to decide.
Reporter: Is ongoing U.S. security assistance to Azerbaijan undermining regional stability, and should Congress take a closer look at these assistance programs to Azerbaijan?
Rep. Sherman: First and foremost, you should require parity [in security assistance to Azerbaijan and Armenia] at least, if not favoritism of Armenia, which I think has been far more willing to settle the conflict than Azerbaijan. Aid to the military of Azerbaijan could be a problem, and aid that did not at least enshrine parity would be worse.
Given the fact that Azerbaijan is participating in the blockade of Armenia, I would like to see zero military aid. Certainly, military aid to Azerbaijan is not a good idea; but departing from parity is even worse.
* * *
SIDEBAR: Facts about Congressman Brad Sherman (D-CA)
Constituency: Represents California's 27th district, located in the northern suburbs of Los Angeles, including parts of Sherman Oaks, Burbank, Northridge, Tarzana, Granada Hills, and Sunland.
Role in the 110th Congress: Chairman of the Foreign Affairs Subcommittee on Terrorism, Non-proliferation, and Trade. Original co-sponsor of House Resolution 106, affirming the U.S. record on the Armenian Genocide.
Personal details: Born in 1954, in Los Angeles. Jewish. J.D. from Harvard University, 1979. Attorney, accountant. Single.
Published in the Armenian Reporter, March 3, 2007